Summary:
"Changing behavior in a dog depends on the age of the dog, and factors such as sex and breed. Behavior is more easily changed before bad habits are formed, such as before 6 months of age. Many behaviors that you want to avoid such as chewing, digging and mouthing your hand are natural for your puppy and need to be modified through providing rewards for approved behaviors."
Overview
Puppies go through four developmental stages. The first two cover the birthing process, with the last 2, socialization and the juvenile period, being a critical period for the proper training of your pup.
Training should start early with the use of food to reinforce certain behaviors. For example, if you hold food in front of your pups nose and say sit, this behavior will naturally happen as your pup reaches its head higher. Hold food on the floor in front of your dog and your pup will move down to the floor to get it.
Since puppies have a short attention span, every training session should be short when reinforcing the right behavior.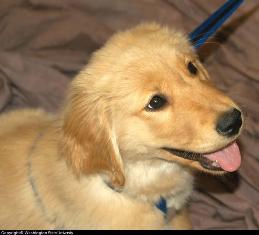 Puppy Behavior: Training and Behavior Problems
Depend on the Developmental Stage of your Dog

With these tools, the owner can begin obedience training and soon progress to asking the puppy to sit for food, to go out and be petted. This allows the owner to be in "control" and be the "leader." Once the puppy knows the task, the food rewards must phase out and given intermittently to help maintain the behavior over the long term.
Here are the stages and the behaviors associated with each that will help you better understand your puppy's behavior. In general it is important that during your puppy's first 6 to 8 months that he or she is exposed to many different experiences.
Stage: Socialization (2.5 to 13 weeks)
This stage is characterized by your puppy bonding with others such as humans during weeks 6 to 8. Your puppy will be undergoing rapid learning as well and should be exposed repeatedly to common social experiences (visitors, noise, travel, walking). If you have an adult dog or another pet in the house, this is when your puppy will learn to interact.
This is also when your puppy will get used to change. If you frequently introduce your pup to different experiences, there is a lower likelihood that he or she will be a nervous dog later on.
0-4 Weeks
At age 2-4 weeks, puppies begin to walk. Their senses of sight, smell, and hearing develop. They begin to bark. Between 3 to 5 weeks the puppies will begin to be attracted to others around him or her without fear.
3-12 Weeks
From 3-12 weeks, puppies are being socialized. They are learning "how to be a dog." At 3 weeks they start to become mobile. They will be weaned at about 6 or 7 weeks, but should remain with their mother and litter mates until 12 weeks of age. They are learning important skills there, such as what an "inhibited bite" means, how to send and receive signals, and how far to go in play wrestling.
Playing with their litter mates helps them develop physical coordination, teaches them social skills, and gives them an opportunity to exploring ranking (who's "in charge"). If they don't get to learn these things now, they may never learn them.

By age 4 weeks, puppies begin to play with their litter mates. They also start learning about social structure/ranking. From 4 to 12 weeks consider exposing your pup to new experiences such as a walk outside, car rides and common house noises such as the vacuum, toilet and doorbell. It is also helpful to get your pup familiar with going to the veterinarian.
Between 5 and 7 weeks a puppy will not be as quick to approach others as they begin to develop a fear response. If you did not introduce your pup to others early, the fear response may be strong around week 12.
In an ideal world a puppy should be with the mother for a minimum of 8 to 10 weeks.

By 7-9 weeks, puppies are ready to begin house training. They may not fully refine this skill until about 9-12 weeks of age, however.

At age 9-12 weeks, puppies are refining social skills and exploring their environment. They are interested in people. This is a good time to begin training.
Stage: Juvenile Period, Social and Sexual Maturity
(13 weeks to 36 months)
This period picks up from the end of socialization until your puppy is sexually mature as an adult. Your puppy continue to develop social skills and is learning based on his interaction with the environment.
Your dog will be sexually mature before he reaches social maturity. Remember that your dog is a teenager and will act just like a human, hard to focus and gets into trouble sometimes. This alone will help explain the behavior of your puppy!

3-6 Months
Puppies at this age are teething, and so they chew things. They begin to use ranking within their "pack," which includes you.
They begin playing with people as well as their litter mates. Puppies may nip or bite while playing, so you'll need to train your puppy not to bite. This is something he will have begun to learn from his mother, however, if he was allowed to remain with her until age 12 weeks.
6-18 Months
From 6-18 months, your dog is still a puppy. In people terms, he is an "adolescent." At 7-9 months, they go through a second chewing stage, which is part of exploring their territory. They test their dominance, which includes challenging humans. Your dog may seem aggressive at this time, and if so, talk to your vet about how to handle it. Don't ignore aggression in your dog. If your dog has not been neutered or spayed, sexual behavior will begin at this age.
Adults: Female Dogs and Puppy Behavior
A mother might show aggression behavior toward anyone that is perceived to be a threat to the pups. This particularly includes new visitors to the home. Since the puppies model behavior after the mother, having mom agitated will be a lesson for the pups to behave in the same way.
Conversely, positive interactions between the mom and humans will show the pups how to properly interact and to accept humans as something that is fun. Over time the pups will get comfortable with handling by yourself and your children.
Try and expose your pups to different areas of the house so that the pup becomes familiar with different floor surfaces and noises. Go out of your way to play noises near the pups so that they get comfortable with this in their environment. Be sure to expose them to everyday sounds such as your vacuum and doorbell. Do this multiple times over several weeks to be sure that the behavior dog puppy takes hold.
Note that your puppy should have all of its vaccinations before being exposed to other dogs. Check with your veterinarian for when it is safe and for additional advice on behavior dog puppy.
Housetraining a Puppy
Puppies cannot control their bladder for more than 4 to 5 hours. Because of this, you need to be available to take your puppy outdoors at least this often. If you can't be home, select in indoor spot for urinating, although of course this is not ideal. Many owners choose to purchase a inexpensive Dog Litter Pan for this purpose.
A dog litter pan filled with a quality dog or puppy litter is an alternative for house training a puppy when the owner will not be home to bring the puppy to the designated outdoor bathroom spot.
It can take a few weeks for housetraining a puppy. Here are some housetraining puppy tips:
Get Your Puppy Used to a Routine.


Keep your puppy on a feeding schedule.


Frequently take your puppy outside, particularly after napping


Choose a place outdoors where you expect your puppy to go to the bathroom. Place your pup on a leash and always go directly to the spot selected. After your dog goes to the bathroom, play with the puppy to associate fun and reward with going to the bathroom in a selected location. Always say the same thing before your dog urinates or defecates such as "go potty."


When indoors, look for signs that your puppy needs to go to the bathroom (changes in behavior  such as circling).
Remember that when housebreaking a puppy their will be accidents. If you catch your dog urinating in the house, interrupt him or her with a noise, and bring the puppy directly to the outdoor spot you had selected. Do not punish your puppy.
Be sure to immediately clean the area where your puppy went to the bathroom to avoid a repeat performance in the same spot. The cleaner Natures Miracle is a popular option for cleaning puppy urine stains and for removing puppy urine odor.
You can download a helpful guide to house training a puppy (PDF) authored by Dumb Friends League, the well-known shelter/humane society. If you have no puppy accidents in a 2 to 3 month period you can consider your puppy behavior training a success!
Ask a Question or Share Your Story
Have A Dog Behavior Question or Story?
Do you have a question for our veterinarian about Dog behavior? If yes, we will answer it for free.

We will do our best to get back to you quickly (depends on how many questions we receive each day). If you do require an immediate response we suggest using this online dog veterinary service that is available now.
References
Troubleshooting Behavior Dog Puppy Issues
D.F. Horwitz
Veterinary Behavior Consultations, St. Louis, MO, USA.