Summary:
"Due to purebred breeding practices, many bulldog health problems are now common. So much so, that this should be a major consideration for anyone considering the breed. The breed is the 6th most popular, even though many American and English bulldog health disorders exist. The flat or short faced head and other desirable traits lead to health issues that range from respiratory problems to anatomical and genetic issues that result in a relatively short lifespan.
While it is possible to have a healthy bulldog, the odds are low. This breed ranks number 2 for likelihood of death from an inherited disorder, and ranks number one for death due to respiratory disease. Future owners should absolutely buy pet health insurance since costly medical issues are common in this breed. Action is being taken by the UK Bulldog Kennel Club, which is now accepting a wider range of characteristics to give breeders greater flexibility. This is not the case in the U.S. where a more restrictive set of standards is used. Be prepared to spend between $5000 and $8000 over the lifetime of the dog, which can be offset with bulldog health insurance.
Note that many reputable breeders disagree with the assertion that the breed has medical issues, particularly if a breeder with an excellent reputation is used. Check with your breeder that the parents have been tested for several genetic health conditions as recommended by the Bulldog Club of America. These include tests for patellar luxation (kneecap problem), congenital heart disease and tracheal hypoplasia."
Video on English Bulldog Health Problems
Overview
The purebred bulldog is known to have a range of genetic medical issues. Think twice before owning this breed or at minimum, check on the health of the parents and siblings before adopting any pup. Bulldogs used for breeding should be tested according to the recommendations of the Bulldog Club of America (BCA). This includes testing for:
Congenital heart disease
Patellar luxation (kneecap that moves out of place)
Other recommended tests include checking for tracheal hypoplasia, a breathing issue that is causes by a narrow trachea.

According to the Journal of Small Animal Practice, the average bulldog has a life expectancy of 6 years.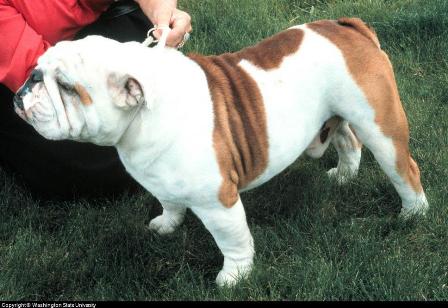 Healthy English Bulldog
Source: Washington State University
Bulldog Health Concerns

These are the many types of bulldog health concerns that every owner (or potential owner) should be aware of:
Congenital (inherited) disease - 2nd most likely to die from an inherited disease


Dog eye problems
-- Cherry eye
-- Corneal ulcers
-- Dry eye


Dog skin problems
-- Infection
-- Chin acne
-- Dry nose
-- Dog skin allergies
-- Skin fold infections


Canine respiratory issues - breed most likely to die from respiratory illnesses such as aspiration pneumonia. The breed has difficulty breathing.
-- Brachycephalic airway syndrome: This refers to several respiratory problems that affect the dog's mouth, throat and nose such as some type of airway obstruction. This can include problems such as stenotic nares, which is a narrowing of the nostrils, an overlong soft palate, everted laryngeal saccules or a larryngeal collapse.

Problems with the trachea called hypoplastic trachea are often concurrently diagnosed with one of the other problems. These breathing problems can affect the respiratory, cardiovascular (airway obstruction can cause cardiovascular collapse) and gastrointestinal (reluctance to eat, cause reflux) issues.

-- Overheating due to breathing problems
-- Many bulldogs require respiratory surgery where the elongated soft palate at the back of the throat is shortened, allowing the dog to breath easily
-- Pulmonic stenosis: lung disease seen in young puppies (French and English Bulldog Health Problem)
-- Tracheal Hypoplasia: check at age 12 months, occurs when the trachea is undersized
Note: If your bulldog is breathing heavily, or the breathing seems labored, be sure to visit your veterinarian for a checkup.
Bulldog Health Problems Can Be Detected During Annual Exams. Genetic Issues Are Well Known to Veterinarians. Catching Breathing Issues Early Lead to a Better Prognosis.
Immunological diseases
-- Thyroid deficiency


Neurological problems
-- Brain tumors


Movement or locomotor issues
-- Canine hip dysplasia (highest incidence of this disorder than any breed - source: Orthopedic Foundation for Animals)
-- Elbow dysplasia
-- Loose kneecaps (patellar luxation)
-- Interdigital cysts
-- Incompletely developed vertebrae
-- Spine issues (check at age 5 months)


Dog Dental problems due to the limited space in the skull
-- Abnormal number of teeth and tooth placement


Digestive Problems and disorders


Urinary
-- Hyperuricosuria (HUU): refers to excess uric acid or urates in the urine


Hearing: check at 35 days old for deafness


Thyroid: check at 12 months of age


Heart Disease (check at age 12 months)
-- Arrhythmogenic Right Ventricular Cardiomyopathy (ARVC)
One of the many Bulldog Health Problems is an Enlarged Abdomen due to Heart Failure (CHD dilated cardiomyopathy)
Source: Washington State University
Food Recommendation
Bulldogs have difficulty eating due their unique head shape. For this reason, we recommend the Royal Canin Bulldog Dry Formula that was made specifically for this breed. The food has a unique shape that makes it easier for this breed to chew and contains ingredients which are more easily digested.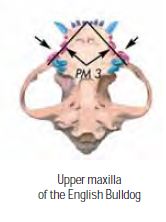 When choosing bulldog food, the physical characteristics of the kibble must be adapted to the Bulldog's size and jaw shape
Source:
Royal Canin Group
Prevention of Bulldog Health Problems
Avoid Air Travel: Avoid bringing bulldogs on airplanes. The incidence of bulldog death during airplane flights is higher than any other breed. Some airlines will refuse to take bulldogs. This is due to the brachycephalic airway syndrome (B.A.S.). Similar problems are seen Boston Terriers, Pub and Pekingese breeds.
Avoid Sun Exposure: Bulldogs, due to their limited breathing capacity, can overheat easily. Since dogs cool themselves by breathing or panting, overheating becomes a particular problem for this breed.

Maintain a Healthy Weight: Keeping a bulldog at a healthy weight can ease breathing issues while avoiding costly surgery.
Bulldogs and Dog Health Insurance
Dog insurance claims are higher for this breed based on the many bulldog health problems described above. For this reason, you may encounter higher fees when insuring this breed. To keep costs low we suggest getting quotes from several insurance companies.
When applying for bulldog health insurance, we suggest contacting the following reputable companies for a quote:
24PetWatch: This company has a flexible range of programs to meet the needs of all dogs and all budgets. 24PetWatch offers unlimited lifetime accident coverage and unrivaled service standards – to mention only a few reasons why they are a leading provider of accident and illness insurance for dogs. 
Pets Best: Pets Best offers a simple 80% reimbursement after meeting the selected deductible. These policies work everywhere since they allow you to choose any licensed vet. They are known for simple, quick claims reimbursement with no annual reimbursement limit or age restrictions, important considerations when considering the best policy for a bulldog and dog health insurance.
DVL2 Gene Variant
A recent genetic study at the University of Helsinki found a gene variant associated with a screw tail in Bulldogs The variant also was shown to result in caudal vertebral anomalies and shortening of the muzzle and may affect the development of the heart.  A different study at the University of California Davis linked screw tail to a variant in the DVL2 gene, which has become entrenched in English Bulldogs, French Bulldogs, and Boston Terriers due to inbreeding. The variant may also contribute to other features typical of those breeds.
The prevalence of the DVL2 variant varied greatly among breeds. All the English Bulldogs, French Bulldogs, and Boston Terriers in the study were homozygous for the variant, meaning they inherited the variant from both parents and did not carry the normal form of the gene. Bot the variant and the normal form of the gene were found in American Staffordshire Terriers, Staffordshire Bull Terriers, Dogues de Bordeaux, English Bulldogs and American Bulldogs.
To determine the effect of the variant on body shape, the researchers analyzed the skeletal anatomy of American Staffordshire Bull Terriers of different genotypes through computed tomography scans. The results showed that the DVL2 gene defect results in caudal vertebrae anomalies in a homozygous state.
The study showed that the gene defect affects muzzle length in varying degrees. In homozygous dogs, the muzzle is significantly shorter than in heterozygous dogs, who only carry one copy of the gene defect. Similarly, heterozygous dogs have shorter muzzles than dogs that don't have any copies of the gene defect.
Alternatives to the American and English Bulldog
Breeds that are similar to bulldogs, but that do not have the health problems are the Olde English Bulldogge and Leavitt bulldog. Note that these breeds are not recognized by the Bulldog Club of America.
Brochures for Additional Information
Bulldog Health Tests (PDF Download)
Author: Purina Pro Club
Bulldog BCA Health Screening (PDF Download)
Author: Bulldog Club of America (includes a health screening matrix)

Ask Our Vet A Question or Share Your Story

Have a Bulldog Health Question for our Editors and Readers?
Do you have a comment, suggestion or question about Bulldog health? Share it! Our editors select several questions a week to answer for free. Just provide your dog's breed, age, sex and medical history.

We will do our best to get back to you quickly (depends on how many questions we receive each day). If you do require an immediate response we suggest using this online dog veterinary service that is available now.
References
Can the Bulldog Be Saved?
Denizet-Lewis
The New York Times Magazine


Brachycephalic Airway Syndrome
E. Monnet
College of Veterinary Medicine, Colorado State University
Fort Collins, CO, USA