Summary:
"Canine lymphosarcoma (canine lymphoma) is a cancerous condition of the lymph glands and other organs made up of lymph tissue such as the spleen and liver. Symptoms vary based on the location of the problem. Treatment involves chemotherapy which can be effective in putting the disease into remission."
Overview
Lymphosarcoma also goes by the names lymphoma and malignant lymphoma. All refer to a solid neoplasm or tumor in organs that have lymph tissue such as the lymph nodes themselves, spleen, liver and bone marrow. Lymphoid leukemia is a separate disease.
Lymphosarcoma is one of the most common cancers found in dogs. It can be treated in several ways with 65% to 96% of dogs going into remission with treatment, for a period of 6 to 9 months. If the lymphosarcoma returns and is treated, and a second remission is achieved, it usually lasts 10 to 12 months.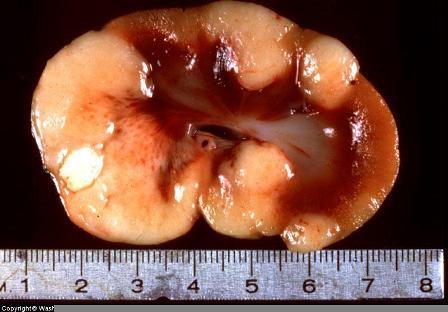 Canine Lymphosarcoma - Kidney
Causes of Canine Lymphosarcoma
It is not clear what causes lymphosarcoma in dogs. It is suspected that heredity, breed (Boxer Dogs are predisposed, for example), exposure to sunlight (uv radiation) and skin tumors may play a role.
Symptoms of Canine Lymphosarcoma
Symptoms depend on the area of the body affected by the disease. Different areas result in different symptoms.
Tired Behavior (lethargic)
Loss of appetite
Weight Loss
Shortness of breath (if problem in stomach)
Itch (if skin problem)
Diarrhea (if intestines are diseased)
Vomiting (if intestines are diseased)
Diagnosis of Canine Lymphosarcoma
Lymphosarcoma is difficult to diagnosis without a tissue sample. The reason is if malignant cells spread they can impact different areas of the body, creating differences between patients.
Diagnosis involves a blood test, X-rays and physical examination. During the exam your dog's lymph nodes in the armpit, groin, neck and chest will be checked for swelling. Your veterinarian may use a test called a fine needle aspiration to take a sample of cells for testing in the laboratory.
Treatment of Lymphosarcoma in Dogs

Your veterinarian has single drug and multiple drug protocols to choose from using chemotherapy. Dogs usually tolerate chemotherapy well. In general multiple drug protocols work in a greater number of cases to either achieve complete or partial remission of the illness.
The drug prednisone has shown to achieve a complete or partial remission rate of 30 - 60 days in approximately 50% of dogs. Another drug, doxorubicin is considered to be the most effective drug. From 41% to 76% of dogs respond to the drug and remission lasts from 52 - 219 days. Survival time is from 100 to 300 days. 17% of dogs treated with doxorubicin had a full remission with 33% of all dogs treated still alive after 1 year, and 20% after 2 years.
Most treatment plans use more than one drug. A drug protocol called COP (cyclophosphamide, vincristine and prednisone) is given to your dog for 6 weeks followed by methotrexate, higher dose cyclophosphamide and lower dose prednisone for an additional 6 weeks. This continues for 1 year. 69% of dogs achieved either a complete remission or partial remission. The median survival time was 123 days.
Another older protocol uses the chemotherapy drugs (vincristine, cyclophosphamide, methotrexate) achieved a complete response in 77% of dogs and a partial response in 18%. Another protocol, COPA (L-asparaginase is given with vincristine) achieved complete remission in 76% of dogs and partial in 12%. Remission was achieved for 334 days. The problem with COPA is that it could be toxic to your dog.
Another protocol (UW-M) claims to have achieved the longest remission time using vincristine, L-asparaginase, chlorambucil, methotrexate, and doxorubicin. This approach for treatment lasts 3 years with 84% of dogs achieving complete remission and 7% of dogs getting partial remission. 
Ask Our Vet A Question or Share Your Story

Have A Question For Our Veterinarian About Cancer in Dogs?
Do you have a question or story about canine cancer? Share it! Our editors will try their best to answer your question for free.

Please include information such as age, breed, sex, medical history, medications, diagnosis, cancer stage,has it spread and anything you believe that will help us answer your question.

We will do our best to get back to you quickly (depends on how many questions we receive each day). If you do require an immediate response we suggest using this online dog veterinary service that is available now.
References
Evaluating Treatment Protocols for Canine Lymphosarcoma
Wallace B. Morrison DVM, MS, Diplomate ACVIM
College of Veterinary Medicine
Purdue University, West Lafayette, IN


Lymphosarcoma (Malignant Lymphoma) - From Cats to Koalas
Paul John Canfield DVSc PhD GradCertEdStud, FRCPath FACVSc MRCVS
Faculty of Veterinary Science B14, University of Sydney, New South Wales
2006, Australia


Dog Owner's Home Veterinary Handbook
Eldredge, Debra; Carlson, Liisa; Carlson, Delbert; Giffin, James