Summary:
"Canine Bladder Stones form when there is a bladder infection present. Symptoms include reduced urination due to the stones blocking the urethra. Treatment options include dietary change or surgery."
Overview
While it is referred to as bladder stones in dogs, the medical word for it is urolithiasis, and it refers to stones (called calculi) found anywhere in the urinary tract. This includes the kidneys, the ureters (tiny tubes that carry urine from the kidneys to the bladder), and the bladder itself. In 85% of cases, the stones are in the bladder.
There are many types of bladder stones. Most common are struvite stones, which are made of magnesium ammonium phosphate and are caused by a bacterial infection. Other stones are made of calcium oxalate, calcium apatite, cystine, or ammonium urate. Bladder stones are formed much the same way a pearl is formed in an oyster. A tiny crystal of a mineral separates from the urine in the bladder. Gradually, other crystals join, until a stone is formed.
Stones cause problems when they block the flow of urine through the urinary tract and out of the body.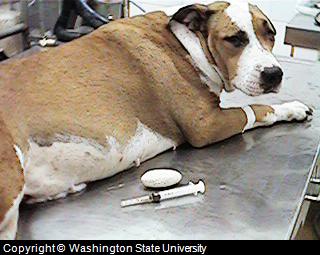 Canine bladder stones often need to be removed with surgery, as was the case with this dog.
Bladder stone on counter next to patient.
Symptoms of Bladder Stones in Dogs

Dogs with canine bladder stones may urinate frequently, passing only small amounts of urine each time. This may mean that your housebroken dog has "accidents" in the house. He may strain to urinate. Other symptoms include reduced appetite, lack of energy and a lack of interest in normal activity. There may be blood in the urine.
If your dog has canine bladder stones symptoms, he needs to see a vet. If a stone becomes lodged in the ureters or urethra (the tube leading from the bladder to the outside of the body), it can cut off urine flow completely, and this can be life-threatening.
In many cases, however, there are no symptoms. Bladder stones are often diagnosed during routine physical exams when the vet feels them while palpating the abdomen of the dog. This is one more reason why it is important for your pet to see the vet for an annual physical.
Diagnosis

If canine bladder stones are suspected, your vet will take x-rays. The stones will show up white on the x-ray. Your vet will also test your dog's urine to see if he has a bladder infection.
Treatment of Canine Bladder Stones

Canine bladder stones can be treated medically or surgically. When given a choice, many vets prefer to take a combination approach. In cases where a stone has lodged in the ureters or urethra, and urine flow is completely blocked, surgery is mandatory. In other cases, there are choices to be made.
During surgery, the bladder is opened and stones removed. If there are stones in the urethra, the vet tries to back-flush those into the bladder for removal. If that cannot be done, an incision must be made in the urethra itself. Antibiotics are often given to treat or prevent bladder infection, particularly following surgery.
Following surgery, an analysis of the stones is performed. Knowing the type of stone is necessary in order to know how to best treat the patient medically. If your dog does not require surgery and will be receiving only medical treatment, a urinalysis can be performed to check for crystals in the urine. Examination of these crystals can determine what types of stones are present.
Once the vet knows what type of stone is present, treatment involves altering the dog's metabolism and urine to prevent further formation of stones. This entails altering the urine pH, increasing intake of water, inhibiting the activity of enzymes that break down urine (urease), and use of special diets.
Struvite stones form in alkaline urine. Therefore medications the increase the acidity of urine are prescribed. Other types of stones form in acidic urine, so for those stones medications that make the urine more alkaline are prescribed.
Role of Diet and Supplements in Dog Bladder Stone Treatment
A special diet is very useful in treating canine bladder stones. The Hills s/d diet can actually cause stones to dissolve. Purina also makes a special diet for bladder stones. These diets can take anywhere from 60 to 180 days to work. They contain lower than normal amounts of protein, magnesium, and phosphorus. Less protein means less urea, and therefore less ammonium. Remember that struvite stones are made of magnesium ammonium phosphate. Lowering the amounts of these materials makes the formation of stones less likely. These diets also contain more salt than normal, which causes dogs to drink more water, which flushes out the bladder. They cannot be used on a long-term basis, however, because they are not considered a complete diet.
If you dog frequently gets urinary tract infections (UTI) or frequent problem with bladder stones consult a holistic veterinarian and consider a dietary supplement made for urinary system health such as PetAlive UTI-Free.
Dogs that have been treated for urinary tract disease run the risk of repeat problems so it is important to maintain changes to your dog's diet.
Ask Our Vet A Question or Share Your Story

Have a Dog Bladder or Urinary System Related Question for our Editors and Readers?
Do you have a question for our Veterinarian about bladder problems in dogs? Our editors select several questions a week for our Veterinarian to answer for free. Just provide your dog's breed, age, sex, any visible symptoms, changes in behavior and medical history (medications, recent visits to veterinarian).

We will do our best to get back to you quickly (depends on how many questions we receive each day). If you do require an immediate response we suggest using this online dog veterinary service that is available now.