Testing and Management of Deafness in Dogs
Summary:
"Deafness in dogs can be due to an inherited condition or a disease such as an untreated infection. Hearing loss can also be brought on by noise, medications or is age-related (ARHL or presbycusis).

Signs of deafness include being unresponsive to sounds such as a toy that makes noise, or if a dog doesn't awaken after a loud noise. Dogs with hearing loss in one ear can have trouble in localizing a sound source. Some causes of deafness result in a permanent hearing loss while others could be temporary. It is often difficult for an owner to detect the slow progression of deafness in dogs since a pet will try and compensate for the hearing loss.

Diagnosis includes a physical examination and neurological examination. Advanced imaging tests (MRI or CT scan) are needed for a full evaluation of the inner and middle ear. Other methods such as a test of the nerve impulses generated by the cochlea is conducted using a BAER test. Treatment starts with the elimination of any disease or debris. Genetic disorders cannot be treated. Use of dog hearing aids and advanced methods such as cochlear implants are not commonly recommended or used. Puppy deafness requires special training.

Hearing loss can affect the relationship between the owner and dog since a dog cannot respond to sounds. If your dog is deaf this can be overcome with counseling and special training. Being deaf is not linked to other health congenital health problems or concerns. Deaf dogs are also not more aggressive."
Dog BERA Test for Hearing Loss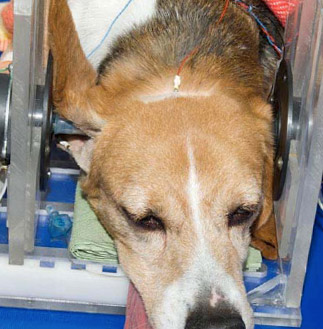 A BERA test is used to test hearing loss in dogs. The patient receives light anesthesia. Electrodes are used to detect sounds such as clicks.