Guide to Dog Ear Illnesses
Summary:
"Dog Ear Illnesses have many causes including:
Bacteria
Fungus or yeast
Changes in the structure of the ear
Parasites
Food or environmental hypersensitivity or allergy
Treatment errors
Symptoms are often described as being Otitis Externa, which is inflammation of the external ear canal (includes the pinnae or ear itself, ear canals and external wall of the tympanic membrane), or Otitis media, which is inflammation of the middle ear. The middle ear includes the wall of the tympanic membrane, bulla (tympanic cavity), auditory ossicles and the auditory tube. If a dog has balance problems, vestibular disease can be the cause, which is a problem in the inner ear and the way that information is coordinated with other senses and communicated to the brain.
Dog Ear Anatomy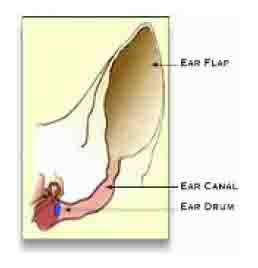 Inflammation in the ear is the result of a problem with the normal ear environment. For example enlarged glands (the ear is lined with cerumen glands) or excessive wax can cause inflammation. Problems in the middle ear often start in the outer or external ear. Otitis externa is the most common diagnosis with bacteria or yeast being the cause. The infection perpetuates the ear problem and if not treated, can lead to changes that can affect ear health and hearing.
Some breeds such as those with pendulous ears (Spaniel and Retrievers), with hair lined ear canals (Terriers and Poodles) or narrow ear canals (Shar pei) are prone to ear infections. This is also true for dogs that live in humid climates. Treatment is usually with select drops and antibiotics.
In some cases surgery is necessary to either resolve a dog ear problem (tumors, injuries) or as a complement to the use of medications.."