Table of Contents
Summary:
"Demodectic mange in dogs (demodicosis) is caused by the Demodex canis mite. This type of mange is usually seen in dogs that are between 3 and 12 months old, and it can clear up on its own. In older dogs there may be an immune system issue and treatment choices may vary."

Overview
It is normal for a few mites to live on a dog. The number is held down by the dog's immune system. When the immune system is depressed due to some type of genetic disorder or illness, then the mite population is able to multiply, causing a problem for the dog.
The Demodex canis mite lays eggs in dog hair follicles, where they grow from nymph (baby) through to adulthood. The entire cycle takes 18 to 24 days.
Demodectic mange is usually seen in puppies between 3-12 months, with the mites passed from mother to puppy (referred to as Juvenile on-set generalized Demodicosis).
Symptoms are either localized, meaning they are in one or two areas of the body such as around the eyes and dog muzzle, or generalized, which means that it appears all over the body.
In dogs under 1 year of age, demodex is referred to as juvenile-onset demodicosis, where in adults it is called generalized adult-onset demodicosis.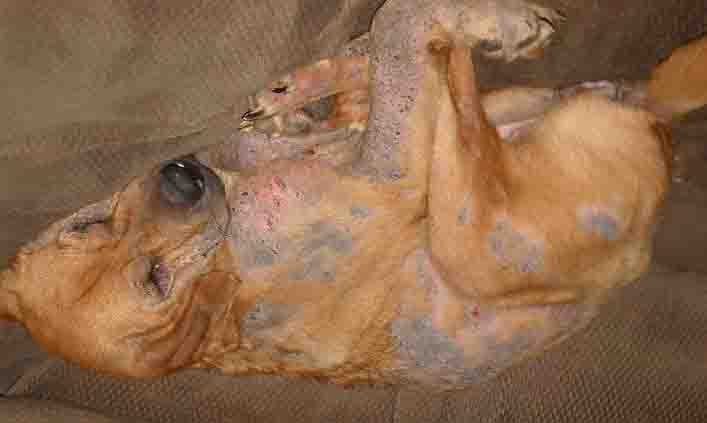 Picture of Chronic Demodectic Mange In Dog
By:
Wikipedia/Julie Knicely
Canine Demodicosis Mange Symptoms
Symptoms vary depending of if problem is localized (in one area) or all over the dog (generalized).

Localized Mange (frequently see in dogs under 1 year of age):
Hair loss at the:
-- Muzzle
-- Lips
-- Head
-- Front legs
-- Trunk
Hair loss in patchy areas
Scaly skin that is either normal, red or gray in color
May not itch
Generalized Mange:
Hair loss on different areas of the body (alopecia)
Skin scaling
Itch all over body
Skin infection (pyoderma)
Diagnosis
A veterinarian will take a skin scraping and look for mites under the microscope in addition to observing the clinical demodectic mange symptoms.
As mentioned above a veterinarian will first determine if the issue is localized or generalized, and why the dog's immune system isn't providing natural protection against the mites.
Demodectic Mange Treatment
Localized Demodectic Mange in Dogs:
Unlike sarcoptic mange, the localized form demodectic mange can clear on its own in otherwise healthy dogs.
A veterinarian may still recommend the use of a dip or medicated shampoo.
Generalized Demodectic Mange in Dogs:
For more chronic dog mange a lengthy treatment process is needed using products such as Mitaban (amitraz). In dogs under 1 year, the condition can still clear on its own 50% of the time. In older dogs the condition can indicate a problem with the immune system, cancerous neoplasm (lymphosarcoma) or chronic disease (diabetes melitus or Cushing's disease).
The most common way to treat demodectic mange in dogs is with a dip (Mitaban) which contains the miticide Amitraz. Prior to treatment the coat is clipped in long-haired or medium haired dogs.  A dog starts by being treated every week, followed by bi-weekly treatments. If a dog does not respond to the dip, then Milbemycin oxime or Ivermetin can be provided for 2 to 3 months.
Even if the condition cannot be cured, treatment could keep it under control. If Mitaban does not work, a veterinarian can use other medications that have not been approved for the treatment of demodectic mange in dogs such as Interceptor (milbemycin).


If a dog has a bacterial skin infection, antibiotics are prescribed.
Dogs should not breed if any pup is born with Juvenile On-set Generalized Demodicosis. Pregnancy can trigger a relapse in females, which is why neutering is recommended.
During the healing process a natural remedy such as Skin Care & Coat may be of some value.


Ask a Question or Share Your Story
Have A Dog Mange Related Question or Story For Our Vet? We'll Answer It For Free
Do you have a Dog Mange Question for our Veterinarian to answer (for free!). Please include information such as age, sex, breed, medical history, medications your dog is taking, changes in diet and behavior etc..

We will do our best to get back to you quickly (it depends on how many questions we receive each day). If you do require an immediate response we suggest using this online dog veterinary service that is available now.
What Other Visitors Have Said
Click below to see contributions from other visitors to this page...


Does My Dog Have Manage Not rated yet
Frenchie about 7 years old female itches horribly until the skin bleeds. the skin has a large hairless area on the lower back. Hairless skin area has large …
Reference
External Parasitic Diseases of Dogs and Cats
P.A. Payne1, M. W. Dryden2 and G.R. Carter3
Department of Diagnostic Medicine-Pathobiology
College of Veterinary Medicine, Kansas State University
Kansas, USA