Summary:
"Dog blood glucose levels or dog low blood sugar levels refer to cells in the body that aren't receiving the amount of glucose needed. Cells require energy to function normally, and glucose supplied by the blood in a dog's body is a source of energy.
The level of dog blood glucose is controlled by different hormones which are secreted by the pancreas. Two of these hormones are of primary importance, insulin and glucagon. Insulin increases the cellular consumption of glucose from the blood or helps in excretion of extra glucose, while glucagon on the other hand releases cellular glucose into the blood stream and helps in the recovery of glucose from the pelvis of the kidney. They work together to balance the levels of glucose in the dog's body, therefore when an imbalance occurs the result may be either hypoglycemia (dog low blood sugar) or hyperglycemia (dog high blood sugar).
Different factors are involved in causing either condition, so it is important to see your vet for an accurate diagnosis and treatment. The treatment plan depends on the underlying cause and monitoring will be required."
Overview of Dog Blood Glucose
Blood glucose, or blood sugar, is obtained from the digestion process, which circulates in the body and is supplied to the body's cells. The mitochondria in the cells convert this sugar into the energy your dog's body needs to function properly. Dog blood glucose is also stored in the liver in the form of glycogen, which can be converted into fat which accumulates within and on muscles.
The proper level of glucose is essential to not only maintaining the physique and energy levels of the body, but also necessary for the proper functioning of every organ in the body. A normal healthy dog should have 2 – 2.5 mmol/L of blood glucose to keep its body functioning normally. If the optimal level of dog blood glucose is either decreased or increased it is considered to be a dog blood sugar disorder.
Canine blood glucose levels are also an indicator of carbohydrate metabolism, so measurements can determine the level of pancreatic endocrine function, and levels too high or too low can help confirm the presence of an underlying disease.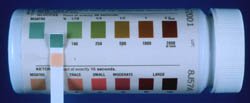 Dog blood glucose test using a test strip. Readings on the left indicate negative for blood sugar. Bottom line of color measures ketones which is also showing as being negative.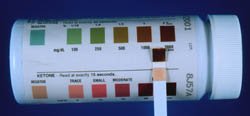 Dog blood glucose test showing more sugar in the dog urine. This sample is also showing negative for ketones. Ketones are produced when fat is burned by the body instead of glucose.
Dog Low Blood Sugar (Hypoglycemia)
Starvation and malabsorption are often causes of low blood sugar in dogs, but other factors such as a hepatic problem (liver), insulin treatment, hypothyroidism, increased excretion in the urine (renal glucosuria) and idiopathic conditions (unknown cause) in some toy breeds of dogs are also associated with this glucose problem.
Symptoms of Dog Low Blood Sugar
Dogs with low blood sugar (hypoglycemia) appear lethargic, weak and unable to perform normal functions due to a lack of energy. Dogs may experience unconsciousness. In severe cases, such as seen in starvation or complicated diagnoses, it can lead to seizure of the brain and nervous system, shock and then coma.
Treatment of Canine Low Blood Sugar
Treatment usually involves an initial assessment to determine the degree of the low blood glucose level. The dog should not be given sugar or administered intravenous glucose or lactose infusions, as it may cause a sudden circulatory collapse. Honey and syrups containing low sugar should be offered to lick initially, followed by systemic treatment. Once the normal level of dog blood glucose is attained, then the underlying cause can be treated. That treatment will of course depend on the cause, whether it is due to malnutrition, disease, medication level adjustment or other cause, although glucose level monitoring will need to continue.

Dog High Blood Sugar (Hyperglycemia)
There are many causes associated with high blood sugar in dogs, including obesity, diabetes mellitus, pancreatitis, glucose treatment, or prolonged use of corticosteroids and morphine. Diabetes mellitus and obesity are the most common reasons for increased dog blood glucose.
Dogs with high blood sugar may experience bacterial infections more frequently. Cystitis, bronchopneumonia and dermatitis are more common in hyperglycemic dogs.
Affected dogs typically appear obese and will also have problems with extra fat accumulation on the liver and other vital organs, which leads to the inability of these organs to function normally. Intolerance, lethargy and progressive weakness are some common signs noted in dogs with high blood sugar.
Treatment for dogs with high blood glucose may take years, depending on the cause, and in some cases requires life long treatment plans such as with diabetes mellitus and irrecoverable pancreatic damage. Treatment with hypoglycemic agents such as glipizide can help in maintaining blood sugar levels at nearly normal levels. Lifelong dietary management with low sugar diets and the use of insulin may also be required in some cases.
Natural Remedy for Dog Blood Glucose Support

In addition to "base" treatments prescribed by a veterinarian, the addition of a homeopathic remedy could act as an additional supportive treatment. Products such as GlucoEnsure contain ingredients that seek to help the body maintain normal blood sugar levels. Ingredients target the pancreas, immune system, circulatory and cardiovascular systems.

Typical ingredients known for their support for these systems include:
Bilberry (supports the blood)
Chromium Picolinate (for sugar and fat metabolism)
Goat's Rue or Galega (pancreatic support)
Fenugreek (blood sugar levels)
Huang qi (blood sugar levels and natural energy)

Be sure to consult with your veterinarian to determine the impact this type of approach might have on your dog's health and so that he or she can monitor levels and any progress your dog is making.
Ask Our Vet A Question or Share Your Story

Have A Dog Diabetes Question For Our Editors?
Do you have a canine diabetes question for our editors or a helpful Story to Share? Please include information such as medical history (describe visits to vet and any diagnosis/test results), age, sex, breed, diet, medications your dog is taking, recent changes in behavior (lethargy, appetite), etc.

Just fill out the form below. There is no charge for this service.

If you do require an immediate response we suggest using this online dog veterinary service that is available 24 hours a day. You decide how much to pay the Vet answering your question and you only pay when satisfied with the answer.
What Other Visitors Have Said
Click below to see contributions from other visitors to this page...

Dog Low Blood Sugar Not rated yet
Our dog that is 22.8 lbs has had 2 readings of low blood sugar, 52and 66 What can we do to get the levels up? Vet Suggestion Dog Low Blood Sugar …
Are These Signs of Dog Diabetes? Not rated yet
Fiona a 7 year old spayed Tibetan Terrier had a complete blood panel done on May 5th to check her slightly low thyroid levels and usually high triglycerides. …
References
The Merck/Merial Veterinary Manual


D. R Lane, B. Coop's "Veterinary Nursing"
(Elsevier Health Sciences, 2003) 3rd Edition


Leslie Ernest, Veterinary Endocrinology & Reproduction
(Lea & Febiger, 2003)


Washington State University College of Veterinary Medicine