Summary:
"Dog food prescription diets and nutrition are very important factors when a dog is healing or undergoing therapy.
In some cases, disease management depends upon food supplied to address specific ailments as part of a treatment plan. These types of diets are known as a "therapeutic diets".
Overview of Canine Disease and Prescription Diets
When a dog is healthy, there is a combination of 38 different elements that are combined into quality dog foods that maintains health. In a dog that is suffering from disease, it is important to understand the historical diet plan, the possible impact it had on the development of the disease, and how changes may be necessitated.

There are number of diseases for which a dog may require a special recipe for its diet, or might require different types of meals (in type and quantity) during different stages of a disease. The following is an overview of some diseases where dog food plays a role in disease management and where a dog food prescription diet or dietary modification may be necessary.
Food Allergy and Dog Food Prescription Diets
Food allergy is a common condition, directly related to the adverse affects of food content. Dogs may show signs of gastrointestinal disturbances (vomiting, diarrhea, etc.) or skin pruritus (itching). A food allergy can be caused by any component of the diet, and requires a replacement of the dog food in use.
A veterinarian will recommend an elimination dog food prescription diet, where a dog is pared back to a simpler diet for 2 months to see if the food allergy symptoms subside. New foods are gradually introduced until the offending food group is identified. Initially a trial therapy with proteins, carbohydrates and no other food additives needs to be practiced for at least 2 months. A trial of different components is continued to find the actual causative component in food. Simple diets containing carbohydrates (potato) and proteins (fish, duck, venison) can be termed as relatively "balanced" for dogs with food allergy. There is also Hill's Prescription Diet z/d which breaks down proteins to minimize the chance of an allergic reaction.
Anemia
Along with any other possible cause of anemia (drop in red blood cell count), dogs fed mainly home cooked foods can also develop anemia. This is due to a deficiency of iron, copper or both. Dogs with anemia due to any pathogen, parasite, accident or due to a deficient diet should be supplied with supplements containing iron and copper as the major component.
Commercial dog foods contain more quantities of minerals and vitamins than the required amount, so are a preferred way to address this problem. Home cooked foods can be improved by adding cooked liver to its ingredients, making it at least 10 – 15% of the entire diet.
Diarrhea
Treatment for a dog with diarrhea should be treated based on the underlying cause. Dietary plans can help a dog recover fluids and reduce any chance of additional fluid loss. Diarrhea in dogs can be resolved or reduced if a dog is fed a diet containing more then 10% dry matter, which should be comprised of fiber.
Moreover, such dogs should be fed with small meals, frequently; preferably 3 – 6 meals/day. If diarrhea persists for more than a couple of weeks, dogs should be fed a highly digestible, protein and carbohydrate diet.
Constipation
Constipation results from disturbed bowl movements and excessive water absorption in the large intestine. Dogs with constipation, when fed a diet containing insoluble fiber (10 – 25%) in a whole diet, 2–4 times a day, helps to stimulate peristalsis (muscle contractions that moves food through the intestinal tract) and helps to keep water in the colon. 1 – 10 table spoons of high fiber cereals, if added to regular dog food, helps to prevent constipation.
Diabetes Mellitus and Dog Food Prescription Diet
The main objective in managing the dog food prescription diet of a diabetic dog is to reduce weight, reduce meal intake and to balance glucose levels in the blood with insulin used as a therapeutic agent. Diets with high proteins content, and reduced fats and carbohydrates are very effective.
1 – 3 meals are usually required at the time that insulin is injected, which is termed "peak insulin action". Dogs are not given any small meals or snacks, other then prescribed meals at the time of injection. This helps in not only enhancing insulin action, but is effective in treating symptoms as well.
Dog Food Prescription Diets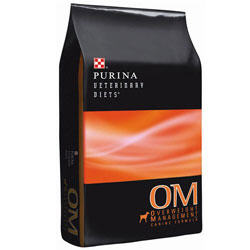 Most varieties are formulated to address specific diseases or conditions and require a veterinary prescription.
Options that promote weight loss include Hill's Prescription Diet z/d as well as Hill's Prescription Diet r/d and Purina OM.
Fever
Dogs with fever usually require more energy. Dogs may require 7 Kcal/Kg/day of energy with each one degree Fahrenheit rise in body temperature. Such dogs should be fed a high energy diet, in a quantity that the dog can easily consume. Smaller meals are a preferable way to feed a dog with a fever.
Pancreatitis
In pancreatitis, dietary management is supposed to reduce the function of the pancreas until the dog recovers. The first priority in a dog food prescription for pancreatitis is "No per Oral" or NpO approach which means nothing by mouth or oral feeding. This approach is helpful in reducing the chances of vomiting and secretion in the pancreas.
This may continue for 3 – 15 days or up until the dog ceases to vomit. After 3 days intravenous or tube feeding may be required. First, only water in the form if ice cubes is reintroduced, to see if it is tolerated by the dog, followed by a commercial liquid dog diet, provided as small, frequent meals once oral feeding is resumed. 1 – 2 mL/Kg B.W is sufficient if fed 3 – 6 times a day until complete recovery is achieved. When solid foods are introduced, it usually starts with carbohydrates such as rice, since it is considered to be highly digestible.
This is followed by a protein such as low fat cottage cheese or boiled skinless chicken breast. Fats should be minimized.
Malabsorption and Maldigestion
Due to problems in the small intestine and pancreas, dogs may develop a syndrome represented by vomiting, weight loss, diarrhea and a change in appetite. Such dogs should be fed a diet containing a low amount of fiber (0 – 5 %), smaller amounts of fats (10 – 15%) and proteins (22 – 27%). Carbohydrates must be obtained from non–cereal sources. Supplementation with appetizers, vitamins and gastric enzymes is highly recommended.
Ask a Question or Share Your Story
Have a Canine Diet related Question For Our Editors or A Story to Tell About This Topic?
Do you have a dog food related question for our editors or a helpful story to share? Please include related information such as age, sex, breed, medical history, symptoms, diagnosis, diet, changes in behavior, diet and medications.

We will do our best to get back to you quickly (depends on how many questions we receive each day). If you do require an immediate response we suggest using this online dog veterinary service that is available now.
References

G – Gastroenterology
Nutritional Management of Canine Pancreatitis
Denise Elliott BVSc (Hons) PhD Dipl ACVIM Dipl ACVN
Director of Scientific Communications
Royal Canin USA