Summary:
" Yes, dog sunglasses do exist and like humans they are a helpful way to protect your dog's eyes.  Sunglasses for dogs and other protective dog glasses were primarily for working dogs that needed protection from fire, debris, dust and wind. Recently, canine owners with non-working dogs have realized that the same benefits that human sunglasses have, such as UV protection, are also good for their dog when walking outside. When purchasing glasses, be sure to follow the sizing guidelines listed below.  Never fit glasses indoors since glasses darken a room.  Instead have your dog smell them first, and then gently place them on outdoors in the sunlight."
Sunglasses may look like just a fashion accessory, but shades do more than make your dog appear to be a style icon. For working dogs, eye wear has been commonplace as a way to keep search and rescue dogs from getting eye injuries. They often come in contact with dangerous conditions such as smoke from fires or debris which pose a risk to the eye. While owners of working dogs see eye wear as standard operating procedure, now owners of non-working dogs are starting to "see" the benefit.  This is particularly true if a dog is frequently outdoors in the sun, is often runs on the beach and can get blowing sand in the eyes, dog's with sensitive eyes, or if a dog has a eye related medical problem that requires some form of protection.
Sunglasses for dogs are closer in appearance to goggles used by humans for sporting events than human sunglasses.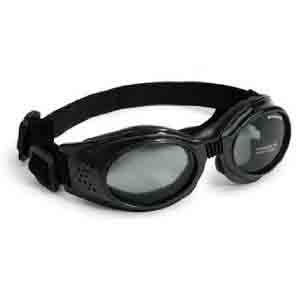 Dog Sunglasses Like this pair From Doggles Are Perfect for Basic Eye Protection When Outdoors, Walking, or Going for a Car Ride

Canine Sunglass Features to Look For

Like human glasses, look for the following features when buying sunglasses for dogs or Doggles:

Shatterproof (polycarbonate)

Anti-fog lens
UV Protection
Adjustable elastic head and chin straps
Size Chart

One issue with choosing a pair for your dog is getting the right fit. To determine the right size, take two measurements:

Take the "back strap and frame length" measurement by measuring across the eyes and around the ears.

Take the "chin strap" measurement by starting measurement just under one ear, go under the chin, and buck up to under the other ear.

Follow the guidelines in the following chart to match your guidelines to the right sunglasses for your pet:
Sunglasses for Dogs Size Chart

Size of Sunglasses for Dogs

Dog Size

Back Strap and Frame Length

Chin Strap

Breed Examples

Extra Small Dog Sunglasses

1 to 10 pounds

5 to 13 inches

3 to 7 inches

Chihuahua, Pom

Small Dog Sunglasses

9 to 25 pounds

12 to 20 inches

4 to 8 inches

Beagle, Westie

Medium Dog Sunglasses

20 to 60 pounds

15 to 25 inches

5 to 11 inches

Dalmation, Border Collie

Large Dog Sunglasses

50 to 100 pounds

18 to 30 inches

6 to 16 inches

German Shepherd, Labrador Retriever

Extra Large Dog Sunglasses

100 plus pounds

22 to 45 inches

11 to 26 inches

Large Rottweiler, St. Bernard

When trying on sunglasses for dogs or doggles (doggie goggles) make sure that each eye piece rests comfortably on the eye.  The goggle part of the glasses should also be deep enough to accommodate dogs with bulging eyes.
Dog Sunglass Brands

The most popular brand of canine sunglasses is Doggles.  Typically, they cost under $20 and are discounted on sites such as Amazon.com. The site also includes consumer reviews of each type, greatly simplifying the buying process.  They are also good about returns.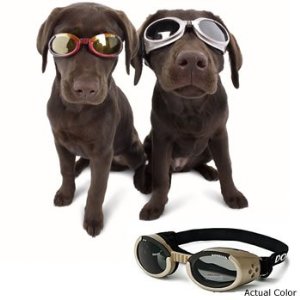 These Sunglasses for Dogs are Stylish and Provide UV Protection from the Sun
Introducing Dog Goggles or Sunglasses to Your Pet

It's important to familiarize your dog with the sunglasses before putting them on. Do not do this indoors as the goggles will appear even darker to the dog inside the house. Instead, have your dog sniff the glasses.  Provide a treat or two associating the doggie glasses with something pleasurable or rewarding.  After your dog is familiar slip them on.  If your dog doesn't like them, take them off, and repeat the procedure the following day.
Have a Dog Sunglasses, Goggles or Doggles Related Question for our Vet?
Do you have a dog sunglasses, Goggles, Doggles or protective eyeware question for our Vet. If so we'll answer it for free.

Please be sure to include any helpful details such as age, sex, breed, medical history, symptoms, any related dog eye problems, diet, changes in behavior and medications.

We will do our best to get back to you quickly (depends on how many questions we receive each day). If you do require an immediate response we suggest using this online dog veterinary service that is available now.
Other Dog Eye Related Reader Questions and Answers from our Vet
Click below to see contributions from other visitors to this page...

References:

Dog Fancy Magazine, Does Your Dog Need Sunglasses; Swanson, Debbie
---