Summary:
"Dog urinary incontinence can be caused by hereditary or other causes that develop due to problems such as spaying in female dogs, obstructions, bacterial infection or behavioral issues. Treatment can include prescription medications, surgery, antibiotics, medications, behavioral modification or natural supplements."
Overview
There are many possible causes of dog incontinence and urinary problems (also called micturition disorders), including muscle control issues in the urethra (female spayed dogs), trauma to the brain or spinal cord, Cushing's disease, diabetes, bladder or kidney stones, kidney or liver disease, and urinary tract infections.
In females who have been spayed, it is sometimes caused by something called estrogen-responsive incontinence. The lack of estrogen due to the removal of the ovaries causes the urinary sphincter to weaken (condition is called USMI).
Urinary incontinence can be behavioral, but there is often a medical cause. Urinary incontinence in young dogs may be congenital (hereditary), particularly in Siberian Huskies, Miniature Poodles, Labrador Retrievers, Collies, Welsh Corgies, Wire-haired Fox Terriers, and West Highland White Terriers. The condition is usually due to other causes in older dogs.
It is a good idea to keep a record of when your dog does and does not urinate if you suspect that a problem exists so that your veterinarian can make a more precise diagnosis. Then compare the pattern of urination or incontinence to the list below.
Types of Canine Urinary Incontinence
There are several different types of urinary incontinence depending on the cause, including:

Overflow incontinence: - when muscle function is not normal or not working at all. (detrusor muscle).
Paradoxical incontinence: When there is some type of blockage or obstruction. Urine can leak past whatever is causing the obstruction.
Stress incontinence: Leakage of urine when intra-abdominal pressure is increased such as a weak urethral sphincter (muscles that close the bladder opening).
Urge incontinence: Frequent, uncontrollable, involuntary voiding of urine associated with lesions of the bladder or urethra that are inflamed, or with reduced bladder capacity.
Urethral sphincter incompetence: Decreased muscle tone (urethral sphincter tone) leading to stress incontinence, urine leakage at rest, or urine leakage with activity. Hormone-responsive incontinence is a type of urethral sphincter incompetence.
Hormone-responsive incontinence: Occurs in neutered dogs at different lengths of time after neutering. Urine leakage occurs while at rest. Voluntary control is present when the dog is awake.
Dog Incontinence Urinary Symptoms
Dog incontinence urinary symptoms are simple to recognize - your housebroken pet suddenly begins to pee in the house! What you'll want to look for is other symptoms that may show up at the same time. Has your dog had a recent illness or injury? Is his coordination poor? Does he seem to be lethargic? Is he drinking more water than normal?
And what about the incontinence? Is he peeing larger amounts than normal, or is he only peeing in very small amounts? Is he leaking urine almost constantly? Does she only leak urine when she is resting?
If your housebroken dog suddenly starts to pee in the house, it's time to visit the vet.
Urinary Incontinence Diagnosis - Canine Bladder X-Ray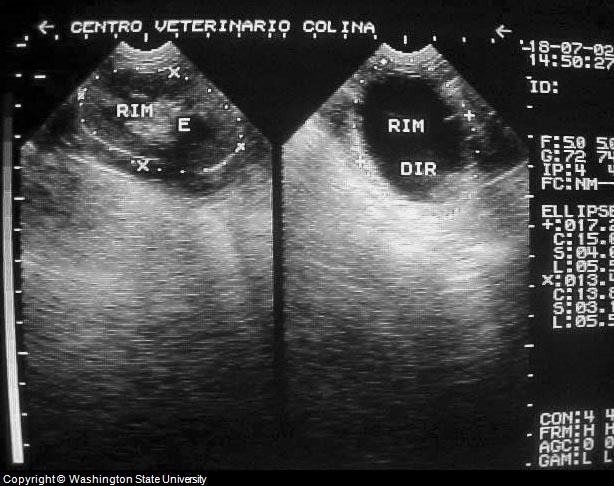 Dog Incontinence caused by a urinary obstruction and swelling of the kidneys (condition called hydronephrosis). Clinical symptoms included dog blood in urine (haematuria).
Source:
Washington State University
Dog Incontinence Diagnosis
Your vet will ask you all of the questions above and some other questions as well. He or she will perform a thorough examination of your dog and will perform a urinalysis. He or she may do some blood tests as well. If kidney or bladder stones are suspected, x-rays may be ordered.
It's important to get an accurate diagnosis, because some of the conditions that can cause urinary incontinence can be rather serious. In addition, chronic exposure to urine can cause secondary problems such as skin ulcers on your dog.
Canine Urinary Incontinence Treatment
The treatment of dog incontinence and urinary problems depends, of course, on the cause. The illness causing the incontinence must be treated. For instance, Cushing's disease, which is caused by a tumor on the adrenal glands, is treated with surgery. Diabetes is treated with insulin. Estrogen-responsive incontinence is treated with estrogen. Bladder stones may have to be surgically removed.
If your female spayed dog is having trouble shutting off the flow of urine in the urethra, medications which help restore muscle control such as estrogen therapy will be recommended. There is a natural homeopathic remedy that can help to temporarily relieve incontinence mentioned below.
If your vet cannot find a physical cause for your dog's incontinence, he or she may ask if there have been any changes in your routine lately that could be causing your dog extra stress. Sometimes dogs will respond to stress by urinating inappropriately. If this is the case, the problem may resolve itself rather quickly, but if it does not, your vet may recommend a medication for stress, such as an antidepressant for your dog.
Homeopathy Support for Urinary Incontinence
Natural Support for Incontinence Due to Bladder Control and Urine Leaking:

There are two types of homeopathic natural remedies that could potentially help your dog. A new remedy has just been developed for bladder control problems. This product contains ingredients such as:
# Cantharis (30C): for dogs that are shy and feel like they have to frequently urinate. It also will provide bladder support.
# Causticum (6C): associated with the urinary tract and thought to help prevent accidents, particularly when your dog sneezes or barks.
# Equisetum (6C): for an aching bladder and if your dog's urine is clear and a large quantity.
# Ferrum phos(6X): provides bladder support.
The name of the product is PetAlive Better-Bladder Control to temporarily relieve incontinence and strengthen the bladder.
Natural Support for Canine Urinary Tract Infection:
There are several herbal supplements that have a history of supporting bladder health and that can be used as a compliment to other treatments. These herbs include:
# Arctostaphylos uva ursi: a known urinary antiseptic and treatment for inflammation of the bladder (cystitis) and all urinary tract problems. Hydroquinone derived from arbutin and methylarbutin is a powerful anti-bacterial agent and is thought to be responsible for uva ursi's ability to treat urinary tract infections.
# Berberis vulgaris: contains berberine which is an extensively studied antibacterial agent that prevents bacteria from attaching to cell walls, reduces inflammation and strengthens immune functioning. By doing this it wards off infection and acts as a preventative and natural antibiotic.
# Cantharis C6: is recommended for severe bladder inflammation (cystitis) and bladder infections including the inability to pass more than a few drops of urine at a time.
# Staphysagris C6: is a proven remedy also used for problems such as cystitis and urine retention.
A reputable company that makes a supplement that combines all of these herbs specifically for urinary problems is PetAlive UTI Free for Dog Urinary Tract Infections
Ask Our Vet A Question or Share Your Story

Have a Dog Urinary System Question for our Vet? We'll Answer It For Free
Do you have a Dog urinary system question for our Veterinarian or a Helpful Story to Share? Please include information such as medical history (describe visits to vet and any diagnosis/test results), age, sex, breed, medications your dog is taking, recent changes in behavior (lethargy, appetite), etc. Includes details such as problems urinating and blood in the urine.

We will do our best to get back to you quickly (depends on how many questions we receive each day). If you do require an immediate response we suggest using this online dog veterinary service that is available now to answer questions over the internet.
What Other Visitors Have Asked About Dog Urinary Problems
Click below to see contributions from other visitors to this page...

Sources

Washington State University
Veterinary College
Micturition Disorders

Urinary Incontinence in the Dog: Clinical Workup and Differential Diagnosis
Arnold, Susi DMV