Summary:
"Orthodontic treatment of impacted canine teeth can help many different kinds of conditions, including those that result in pain or periodontal disease. The teeth need to be aligned in order for food to correctly move away from the teeth and gums during meals. Dog head shape determines the proper alignment of teeth. Treatment is often required for problems due to abnormal growth or when adult teeth replace puppy teeth."
Overview

Orthodontic treatment of impacted canine teeth and other abnormal bite issues are caused by one or more of the following 4 factors:
Genetics - inherited from parents where the lower and upper jaws grow at different rates.
Nutrition
Environment - pulling games with balls etc.
Mechanical - abnormal interlock of the upper and lower teeth
Many abnormal bites can be corrected. Breeders that use rubber bands to move canine teeth often correct the teeth, at the expense of the gums and sometimes causing pain for your pet.
The right way to move teeth is with brackets, acrylic retainers, springs and elastics. Treatments usually take several months. If only my son's braces came off as fast.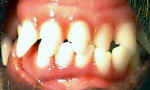 Orthodontic treatment of impacted canine teeth may be necessary when the roots become impacted. This can be caused by tug-of-war games with your dog
Abnormal Canine Bites:

Misdirected Canine Syndrome
This occurs when the baby tooth (decidous) does not fall out and the adult tooth growing in front of it curves outward. If this is not corrected it could result in periodontal disease and tooth loss.
Dog Dental Interlock
Jaws do not grow at equal rates. If there is a spurt of growth in the upper jaw, these teeth may cause the slower growing lower teeth to be pushed into an abnormal bites by the time adult teeth grow in.
Overshot Bite (Also Called Parrot Mouth or Prognathism)
When the upper jaw closes past the lower, so the upper and lower teeth never meet. Puppies younger than 10 months may grow out of this condition if the gap is smaller than the width of a penny. This condition should be corrected since the adult teeth may injure softer sections of the mouth.
Undershot Bite
Where the lower jaw extends past the upper. This is a normal condition with pugs and bulldogs.
Canine Wry Bite
Canine Wry Bite
One side of the jaw grows faster than the other. This causes a twist in the mouth. Without correction, a dog will have problems chewing and holding food.


Common Canine Teeth Problems
Canine Crowded, Rotated or Tilted Teeth
Problems associated with crowded, rotated or tilted teeth including orthodontic treatment of impacted canine teeth:
Early onset and increased severity of oral infection
Damage to soft tissue due to sharp teeth penetrating the gums. This can also result in erosion of lower teeth, resulting in food entering the nasal cavity from the mouth
Teeth which are not aligned wear against each other, causing a loss of enamel and exposes the root canal causing pain and problems
Pain in joints of the jaw
Worn Canine Teeth
Your dog's teeth can become worn in spots due repetitive things your dog might do. For example, if your dog is always carrying a ball the same way, the teeth could wear down. Usually you will see a brown ring on the tooth which means that the tooth is repairing itself.
Broken Canine Teeth
A broken tooth is common and can cause bite problems, a shift in the teeth and in the worst cases cause the tooth to die. A sign of a dying tooth is a change in color to pink or brown and inflammation around the gums.
If the broken tooth is an incisor tooth, it is usually not a problem, although it is worth having your Veterinarian take a look. Also, if only the enamel is chipped, and the dog is not in pain, this requires no treatment.
If the tooth break goes down far, and is causing pain, then the dog may refuse to eat and become depressed. The tooth will have to be removed. If it is not, an abscess could occur (an abscess is a hole that could break through your dog's skin and cause swelling).
Dog Bones and Teeth
There are pluses and minuses to giving dogs bones to chew on. The plus is that you see less tarter on the teeth of dogs that chew bones. However, you also see fourth premolar of the upper jaw in which the enamel layer breaks off the side of the tooth. This happens with beef marrow bones and mylabones. Many dogs do learn to chew bones without hurting their teeth.
Orthodontic Treatment of Impacted Canine Teeth
Orthodontic Treatment of Impacted Canine Teeth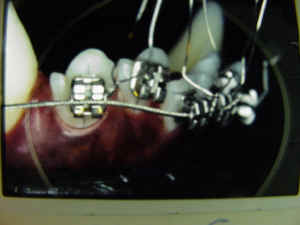 Orthodontic treatment can correct many types of abnormal dog bites
Impacted teeth refer to teeth that fail to grow above the gum line. Solutions for this problem include surgery to expose the crown of the impacted tooth in order to let the tooth grow naturally. Canine orthodontics should only be performed by individuals experienced with dog tooth movement.
An alternative is to go to a Veterinarian that specializes in canine orthodontia. Through careful shifting of other teeth, you may be able to get the impacted tooth to emerge.
Ask a Question or Share Your Story
Have a Dog Dental Care related Question For Our Editors or A Story to Tell About This Topic?
Do you have a dog teeth, gums or dental care related question for our editors or a helpful story to share? Please include related information such as age, sex, breed, medical history, symptoms, diagnosis, diet, any pain, bleeding, changes in behavior,and medications.

We will do our best to get back to you quickly (depends on how many questions we receive each day). If you do require an immediate response we suggest using this online dog veterinary service that is available now.


In addition to specific therapies recommended by your veterinarian, consider adding a homeopathic product formulated to promote healthy teeth and gums such as Gumz-n-Teeth.
What Other Visitors Have Asked and Veterinarian Responses
Click below to see contributions from other visitors to this page...

Slow Maturing Lower Jaw Not rated yet
Do you have any thoughts on slow maturing lower jaws? I had one liter of 16 with 4 pups with problems. We tried taking some of the gum away early …
Puppy Loosing Teeth Not rated yet
I found a tooth on the floor and wonder whether it should have a root attached. My pup is 5 mo. old. The tooth had no root and it kind of looks like it …
Dog Abnormal Bite Not rated yet
My mini foxys upper canine teeth are growing horizontally under the gum above and toward the front teeth. You can see them just under the gum. What …
Reference