Symptoms and Treatment of a Urinary Tract Infection in Dog
"A urinary tract infection in dog (UTI) may or may not result in the appearance of visible symptoms. A dog UTI is caused by bacteria that enters the body through the urethra. There is also a small risk that after entering the bladder, bacteria will continue up to the kidneys. Typical symptoms include straining to urinate, an increase in the frequency of urination and blood in the urine. The problem is more likely to occur in older females, although any dog can develop an infection. Your veterinarian will take a urine sample in the office and see if bacteria grows in the sample. Once the severity of the infection and type of bacteria is confirmed, antibiotics are used to cure the problem. A dog should start to see relief 48 hours after treatment begins. If the infection returns after treatment other causes may exist which also require treatment. Natural approaches can also help such as supplements and something as simple as cranberry juice."
Urinary tract infection in dog (UTI) is probably the problem if you notice your dog drinking and urinating more than usual. You may also notice other problems related to urination such as pain when urinating, urine that leaks out and even urinating where your dog is not supposed to such as in the house. It is possible to have an infection without showing any symptoms which sometime makes it difficult to treat infection at the earliest stages.
It can be difficult to determine the exact location of the infection. If it is in the bladder it is referred to as a condition called cystitis (canine bladder infection).
Note that these symptoms are also associated with other conditions such as Cushing's Disease and Kidney problems, however UTI (urinary tract infection) is most likely the cause.
To diagnose a urinary tract infection in your dog, your veterinarian will take a urine sample. This is done by inserting a catheter. If there is bacteria in the sample, then it will grow in the container holding the urine. Your veterinarian will also test the urine itself for the presence of crystals, which can indicate the presence of a stone which may be blocking the flow of urine.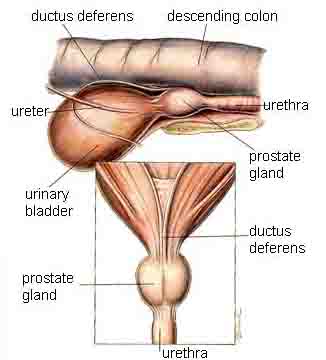 Dog Urinary System
Bacteria Travels up the Uretha, the Tube the Carries Urine from the Body to Cause a Urinary Tract Infection in Dog.
Females are More Susceptible Since They Have a Wider Opening.
Source: The pictures in this section are reprinted with permission by the copyright owner, Hill's Pet Nutrition, from the Atlas of Veterinary Clinical Anatomy. These illustrations should not be downloaded, printed or copied except for personal, non-commercial use.
Dog Urinary Infection Treatment

UTI is treated with conventional antibiotics such as amoxicillin. Treatment usually lasts for up to 14 days followed by a retest 7 days after treatment ends. If your dog's infection is resistant to this antibiotic, she could switch treatment to another one.
If your dog frequently gets infections, then there are probably other factors at work such as the presence of a urinary stone. There may also be a structural issue with the way the ureters (tube that carries urine from the kidney to the bladder) or a problem with the place in the bladder where the umbilical cord was connect. If the point of connection didn't heal right, it could create a place for bacteria to congregate.
Your veterinarian will also look for signs of kidney disease. This is usually accompanied by additional symptoms such as fever and and canine blood in the urine. She will also look for illnesses that make lower your dog's resistance to infection such as Cushings Disease and Diabetes Mellitus.
Natural Approaches to Urinary Tract Infection in Dog
If suspect the beginning of an infection, you can try feeding your dog either cranberries, blackberries or raspberries. These help the bladder by making it more difficult for the bacteria to attach to the bladder wall. You could also try either providing some juice in a bowl or mixed with food. Note that many dogs do not like the taste.
Other supplements that you could try include Glucosamine & Chondroitin supplements, although there is no clinical support for this approach in dogs. You could also try a homeopathic product made to help dogs with urinary problems such as PetAlive UTI-Free Formula.
Increased urination may also help. Consider taking your dog for an extra walk or two. The act of marking territory pushes urine through the system and helps to naturally cleanse the urinary tract.
References Urinary Tract Infection in Dog:
Hound Health Handbook
Brevitz, Betsy DVM

Dog Owner's Home Veterinary Handbook
Eldredge, Debra,; Carlson, Liisa; Carlson, Delbert; Giffin, James

Have a Dog Urinary System Question for our Vet? We'll Answer It For Free
Do you have a Dog urinary system question for our Veterinarian or a Helpful Story to Share? Please include information such as medical history (describe visits to vet and any diagnosis/test results), age, sex, breed, medications your dog is taking, recent changes in behavior (lethargy, appetite), etc. Includes details such as problems urinating and blood in the urine.

We will do our best to get back to you quickly (depends on how many questions we receive each day). If you do require an immediate response we suggest using this online dog veterinary service that is available now to answer questions over the internet.