Summary:
"Blindness in dogs usually occurs gradually. It is difficult to detect at first because your dog will have memorized the placement of objects in the home."
Overview
If your dog is blind in just one eye, you might not even know it. He will likely be able to get around just as well as he could when he was able to see with both eyes. In fact, if he loses his vision slowly, you might not even notice right away that he is blind. Dogs are remarkably adaptable. He will memorize his surroundings and be able to get around quite well using his senses of smell and hearing. Your first clue that something is wrong may be when you rearrange the furniture or make some other change to his environment.
Symptoms of Blindness in Dogs
Symptoms of blindness in dogs include bumping into furniture and seeming clumsy in general, having trouble finding things such as their food and water dishes, becoming easily startled, getting lost in the yard or in certain areas of the home, and a lack of normal play.
You should take your dog to the vet immediately if you suspect changes in his vision. Early treatment may save his eyesight.
Diagnosis of Blindness in a Dog

Blindness in your dog can be caused by a number of conditions, including cataracts, glaucoma, uveitis, severe corneal disease, retinal inflammation and infection, retinal detachment, disease of the optic nerve, and disease of the occipital cortex (the visual center of the brain).
Your vet will carefully examine your dog for these and other illnesses that may be causing your dog's loss of vision. He or she will do a complete physical exam, an ophthalmic exam, and a neurological exam. If your vet is not qualified to perform the ophthalmic exam he or she will refer you to a vet who specializes in ophthalmology.
One approach is to use a threatening gesture in front of your dog called a menacing response. How and if your dog blinks can indicate different conditions. Other approaches include an obstacle course or placing your dog near a table to see if he or she extends their legs.
Try and determine if your dog has trouble seeing at night or during the day. Loss of night vision is associated with a condition called Progressive Retinal Atrophy (leading cause of inherited blindness). A condition that only impacts night vision is called Congenital Stationary Night Blindness.
Your vet will also do some blood work, and may do some other tests such as a cerebral spinal fluid test and a CT scan or an MRI.
Your veterinarian will also check for retinal detachment. This is caused by a buildup of fluid in the eye. Other causes include some type of eye injury, the formation of fibrin in the eye (fibrin is what causes blood to clot).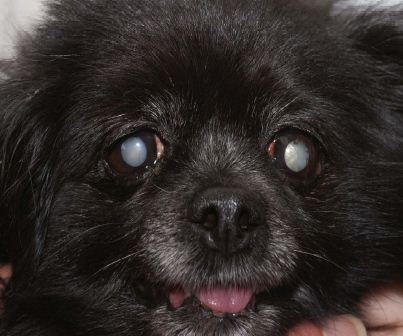 Blindness in dogs can be caused by problems such as cataracts, shown here
Canine Blindness Treatment
The treatment for blindness in dog depends on the diagnosis, including the causes below.

Most Common Cause of Blindness in Dogs
The most common finding in dog blindness is a condition called Optic Neuritis, which means nerve disease. Causes include inflammation in the nerve due to meningitis, infection (distemper, fungus), tumor (neoplasia) or injury.
Treatment of this condition involves treating the underlying cause. In a recent study of 12 dogs, 5 remained blind after treatment.
Common Cause of Inherited Blindness in Dogs
Retinal detachment: If the problem is retinal detachment and it is caught early before the lack of blood keeps the eye from deteriorating, then sight may be able to be restored. In some cases the retina is only partially detached. If the detachment can be stopped through treatment then some sight can be preserved.
Common Cause of Blindness in Both Dog Eyes
Demyelination of the optic tract: This condition is usually caused by inflammation related to an infectious disease. It is a side effect of canine distemper and the most common cause of blindness that effects both eyes vs. a condition that only impacts one eye.
Another Possible Cause of Canine Blindness
Tumors of the pituitary gland: A tumor can squeeze the optic nerve causing vision to be impaired.
How to Help a Blind Dog
There are some things you can do at home to help your dog. Minimize changes to his environment. He will function better if he knows where things are. Keep his food and water dishes in the same place, and guide him to them if necessary.
To keep your dog safe, use baby gates to barricade stairways. Don't let him outdoors alone; always take him out on a leash.
Your dog may want to paw at his eye if it is uncomfortable. Don't let him do this, as it might cause more damage. Use an Elizabethan collar if necessary (those are the conical collars the make your pet look like a satellite dish). You can get one from your vet.
Ask Our Vet A Question or Share Your Story

Have a Dog Eye Related Question For Our Editors or A Story to Tell About This Topic?
Do you have a dog eye related question for our Veterinarian or a helpful story to share? We'll answer it for free! Please include information such as age, sex, breed, medical history, symptoms, diet, changes in behavior and medications.

We will do our best to get back to you quickly (depends on how many questions we receive each day). If you do require an immediate response we suggest using this online dog veterinary service that is available now.
Other Dog Eye Related Reader Questions and Answers from our Vet
Click below to see contributions from other visitors to this page...

Strange Color In Blind Dog's Eyes Not rated yet
Reader Question: What Dog Eye Disease Is This Jack Russell Suffering From? JackRussellRescue Society gave me a JR to foster. He is blind but can see …
Canine Allergic Reaction Not rated yet
Reader Question: Can A Past Allergic Reaction Cause Dog Blindness? My 9 year old cocker has had an allergic reaction in her eyes, for which she was …
Sources
Blindness in Veterinary Ophthalmology: Examination, Causes and Treatment
Ofri, Ron, Med Vet, PhD
American College of Veterinary Ophthalmologists