What You Need to Know about Distemper Virus in Puppies:
Distemper in Puppies (CDV) requires immediate treatment and supervision from a health care professional. It is very contagious, is found in dogs of all ages, and affects the respiratory, gastrointestinal tract, central nervous system, urinary tract, and optic nerves. Puppies under six months are particularly vulnerable, where it causes severe disease. The virus starts when puppy comes in contact with the airborne virus droplets that enter the mouth or nose. It can also spread through direct contact with an infected dog.  After a 10 to 14 day incubation period, the virus starts by spreading in the lymph tissue of the upper respiratory tract and then spreads through the bloodstream over the next 5 days. 
The most common symptom of distemper in puppies is respiratory distress. Other symptoms include appetite loss, conjunctivitis, nasal discharge, cough, and fever. The puppy may also have diarrhea and vomiting. 
Distemper diagnosis is with a urine or blood test. Treatment depends on the severity of the disease. For respiratory distress the puppy receives supportive care and medications such as a cough suppressant or fluids for dehydration. In more chronic cases a dog may be isolated and hospitalized. Euthanasia is considered if a puppy shows neurologic symptoms such as seizures. Anti-viral medications are not routinely used with care focused on supportive therapies. 
Distemper in puppies is rare and is prevented by vaccination, which can start at 6 to 8 weeks of age with a booster every 2 to 4 weeks until 16 weeks of age. No vaccine is 100% effective but will help to protect your dog. If a dog contracts distemper, it is recommended that the puppy be observed daily and that the environment be thoroughly disinfected.
Overview and Causes
Puppy distemper is much more common in puppies six months and younger than older dogs. It is caused by the paramyxovirus virus, and is very similar to the virus that causes measles in humans
 a virus that is spread through the air as well as by bodily secretions such as urine. It is a very serious illness, and as many as 75% of all dogs who get distemper die from it. We strongly recommend that your dog be under the supervision of a veterinarian or homeopathic animal care professional.
Most veterinarians will wait until at least four months after birth to vaccinate a puppy for distemper. The reason for waiting is that antibodies from the mother remain in the puppies' bloodstream preventing vaccinations from taking hold. By waiting, there are fewer parental antibodies allowing immunization to occur. Because of this, even if your dog has been vaccinated, it may not have immunity unless the vaccination was successful.
Symptoms and Signs of Distemper in Puppies
Symptoms of distemper in puppies can vary from mild to severe. Mild symptoms may include:
cough - dry could at first then a moist cough. It can also have breathing problems caused by pneumonia.
runny nose
red eyes that are swollen and painful with white or clear mucus discharge (conjunctivitis)
fever (103° to 105°F; 39.5° to 41°C)
thickened foot pads or nose pad
More serious symptoms include:
runny eyes
vomiting
diarrhea
lack of appetite
weight loss
Severe symptoms include:
seizures and tremors - caused by inflammation of the brain (encephalitis) and membrane around the brain (meningitis)
blindness
paralysis
Distemper can also cause puppy teeth to become discolored and pitted when they become an adult.
As you can tell from the wide variety of symptoms, all body systems can be affected, including the respiratory system, the digestive system, urinary system, and the central nervous system. 
Initial symptoms can resemble those of parvo disease and may not be easily recognized as distemper, particularly the gastrointestinal symptoms.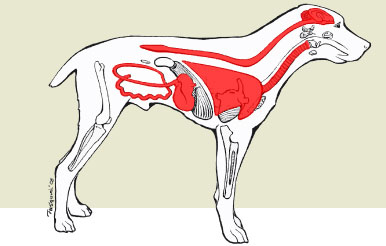 Puppy distemper systems infects the gastrointestinal tract, respiratory system and central nervous system of the dog
Source: Cornell University College of Veterinary Medicine
Diagnosis
A puppy distemper diagnosis is confirmed with a blood test or a urine test. There are several types of blood tests.
The first test looks for antibodies that have developed in response to the disease. If your puppy has already been vaccinated for distemper, though, these antibodies will be present regardless of whether your puppy has distemper or not.
The second type of blood test looks for distemper by mixing florescent antibodies with the blood to see if they attach to distemper virus. If they do, the blood will glow. This test can give negative results even if your puppy does have distemper, though, because sometimes the virus "hides" in the cells and is not present in the blood itself.
Another test for distemper involves looking for the virus in the fluid that surrounds the brain and spinal cord (cerebral spinal fluid). This is an expensive test and can be dangerous to perform. Your vet may not recommend it.
If tests do not show that your puppy has distemper but he has all the symptoms and other illnesses are ruled out, your vet may diagnose distemper regardless of what the tests say.
Treatment
There is no cure for distemper in puppies. All puppies should be vaccinated for distemper when they are about six weeks old. Vaccination is the only way to protect your puppy.
Once a puppy gets distemper, the prognosis is poor. Secondary bacterial infections can be treated with antibiotics. IV fluids are often required to keep puppies hydrated. Seizures can be treated with anti-convulsive medications. Other symptoms can be treated, and supportive care is given, but no medication can treat the distemper itself. Some puppies do recover, but there can be lasting problems, such as blindness, paralysis, and seizure disorders.
Be sure to keep your puppy in a warm draft free room. Wipe any discharge from the nose and eyes. Distemper medications such as glucorticoids are used with dogs that have vision problems.
Other symptoms can be treated, but there is no medication to treat the distemper itself.
Even puppies that recover may suffer from longer term effects of the disease, such as tooth decay (enamel hypoplasia) and hardening of the foot pads and nose (canine hyperkeratosis).
Disease prognosis is guarded.
Cost of Dog Distemper Treatment
The diagnosis of distemper in puppies can cost up to $250. Treatment ranges between $101 and $500 depending on the area you live and the severity of the disease.
Prevention
Distemper prevention through vaccination can start at six weeks of age, with boosters every 2 to 4 weeks until 16 weeks of age. If a dog is vaccinated after 16 weeks of age a recombinant or single live vaccine should be enough to protect the dog. Note that vaccines are never 100% effective, but are extremely helpful.(1)
Distemper is a known risk in kennel, shelter, and large dog group settings due to increased risk of exposure, high levels of dog-to-dog contact, and uncertain protective vaccine status of other dogs or puppies. Socialization of puppies with other puppies (or adult dogs who have not been properly vaccinated) is not advised - unless the vaccination status of all involved dogs is assured. Kennels should pay careful attention to other preventive measures, such as environmental cleaning and disinfection, and immediate removal of sick dogs.
The dogs environment should also be cleaned with bleach (1 part bleach to 30 parts water). 

FAQ
What is the Incubation Period of Distemper in Dogs?
Signs of distemper in dogs will appear in 1 to 6 weeks after being exposed to the virus.
Can a Puppy Survive Distemper?
A puppy with a strong immune system can survive distemper, however, 85% of puppies under 1 weeks old to five weeks die. Distemper is fatal to puppies in 50% of cases.
Can Humans Get Distemper from Dogs?
Humans cannot get distemper from puppies or adult dogs.
How Long Can the Virus Survive Outside the Dog?
Distemper is not durable in the environment and will not survive after a few hours at room temperature.
How Long Does it Take for the Distemper Vaccine to Work?
In the majority of puppies over 5 months, the vaccine will start to protect in 3 to 5 days. If a puppy is exposed to distemper over this time, symptoms should be milder.
For Additional Reading
Distemper in Puppies
What is distemper in puppies? Understand the causes, signs, diagnosis, and available treatment options.
Canine Distemper
Brochure on distemper from the American Veterinary Medical Association.
American Veterinary Medical Association
Have a Canine Distemper Related Question For Our Editors or A Story to Tell About This Topic?
Do you have a dog distemper related question for our editors or a helpful story to share? Please include information such as age, sex, breed, medical history, symptoms, diet, changes in behavior and medications.

We will do our best to get back to you quickly (depends on how many questions we receive each day). If you do require an immediate response we suggest using this online dog veterinary service that is available now.
What Other Visitors Have Said and Vet Suggestions
Click below to see contributions from other visitors to this page...

Dog with Cough and Runny Eyes Not rated yet
My 5 year old dog missed 2 years shots has a cough, a runny nose and teary eyes. He eats cooked eggs cooked and is eating OK. I got sick with a respiratory …
References
(1) Canine Distemper Virus, Clinician's Brief, November 14, 2019; Somporn Techangamsuwan, DVM, MSc, PhD, Chulalongkorn University, Melissa A. Kennedy, DVM, PhD, DACVM, University of Tennessee
(2) Distemper; Foster, Race DVM, and Smith, Marty DVM
(3) Canine Distemper: Current Status; Appel, M. and Summers, B.
(4) Response of Puppies to Vaccination with Canine Distemper and Canine Parvovirus; Trevor Waner, BVSc, PhD, Dipl ECLAM; Rehovot Veterinary Referral Clinic; Rehovot, Israel

---