"Laser treatment in dogs is increasing dramatically for inflammatory conditions such as dysplasia in the back, knee and elbows. Low power lasers heal deep tissue and joint problems by painlessly penetrate below the skin.  More veterinary practices are offering the service as practitioners are finding that lasers can help to treat conditions such as arthritis in small dogs as well as spinal cord injuries.  The therapy is safe, brief and painless.

The treatment method is similar to what has been used on humans for 50 years and is now available in about 5,000 veterinary offices. While the therapy is widely in use, more scientific studies are needed."
Overview
Laser therapy is called for when other treatment options that target pain relief have not been effective. The therapy uses an intense beam of light directed into tissues to help reduce swelling, increase circulation and for pain relief. Lasers are referred to as being Class IV therapeutic lasers.

Doses need to be adjusted based on the size of the dog.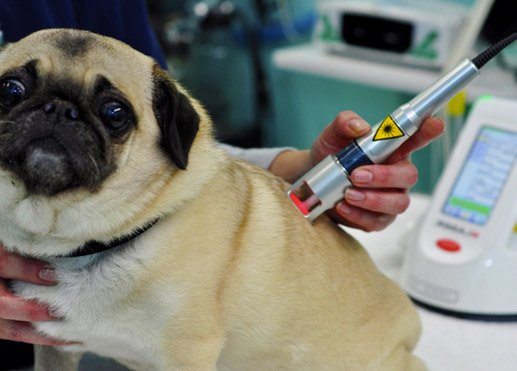 Dog Receiving a Laser Treatment
Treatment Advantages:
Speeds recovery after surgery aiding the regeneration of nerve tissue
Improves chronic conditions such as arthritis
Quick and inexpensive
It is also pharmaceutical free, avoiding side effects associated with potent medications.

The treatment does not use sedation or fur clipping.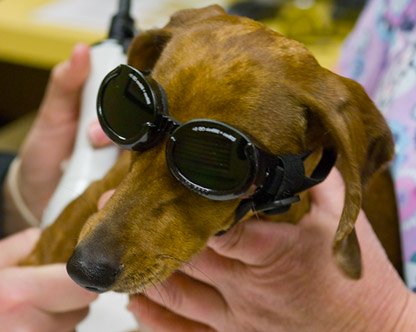 Dog Receiving Laser Treatment for Elbow Dysplasia
Diseases Treated with Dog Laser Therapy
Post-surgical injury or trauma
Degenerative joint or disc disease
Acute lameness

Joint pain
Swelling

Neuromuscular disease
Back pain
Pododermatitis (footpad inflammation)
Sprains
Muscle strains
Tendon injury
Muscle injury
Ligament injury
Open wounds
Ulcerated and chronic skin wounds
Pain associated with osteosarcoma (contraindicated in tumorous areas, but knowing risks can be used to relieve pain)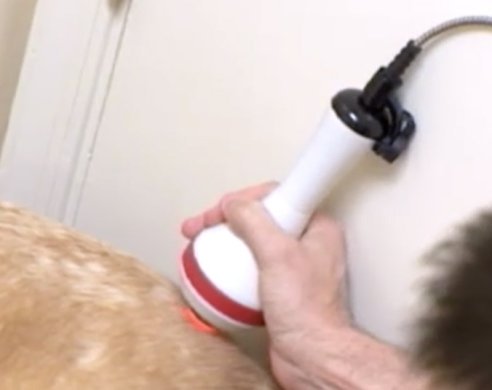 Laser Treatment in Dogs in Non-invasive and Does Not Require any Coat Clipping
Treatment
Laser treatment is painless and takes only minutes. The laser light is delivered via a non-invasive hand piece. A dog's eyes are directed away from the treatment area or covered for protection (a laser pointed into the eye can cause damage to the retina.)
Many owners are reporting dramatic results such as elimination of limps and an increase in activity levels in treated dogs.  Results can be see after the initial treatment.  It may take more than one treatment to start visibly seeing results (there could have been some improvement, but did not result in visible clinical improvement.).

Each session takes about 10 minutes on smaller dogs to 1/2 hour for big dogs that are being treated for arthritis.  Treatment can be used in conjunction with other methods such as hydrotherapy.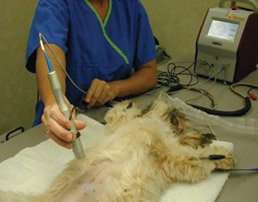 Use of Laser Therapy after routine Surgery to Reduce Post Operative Pain and to Accelerate Healing
Side Effects
There are few side effects for dog laser therapy. On rare occasions patients being treated for an old injury or pain, the laser treatment may aggravate an area causes pain for a few days followed by healing.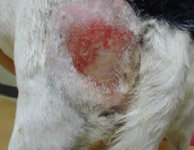 Dog Hot Spot Treated with Laser Therapy to Reduce Swelling and Pain while Using Bio-Stimulation and the Anti-microbial effect of treatment to accelerate healing.
Results and Costs
According to veterinarians at Cornell University, 2/3 of patients see positive results. They recommend that dogs undergo therapy two to three times a week for three weeks.  The cost is $35 a session.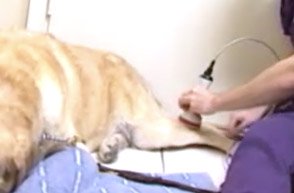 Laser Therapy Can Help to Increase Activity Levels for Dogs with Osteoartritis of the stifles, hops and lumbar spine. Helpful for dogs that have difficulty rising and moving up and down steps.
Ask Our Vet A Question, We'll Answer It For Free
Have a Question for our Editors and Readers about Canine Arthritis or have some helpful advice?
Do you have a question about dog laser treatment or therapy? Have an experience with your dog that will help others? Share it! Our editors select several questions a week to answer for free. Just provide your dog's breed, age, sex and medical history.

Please include a picture of any problem areas.

We will do our best to get back to you quickly (depends on how many questions we receive each day). If you do require an immediate response we suggest using this online dog veterinary service that is available now.
Brochures
Free brochures for additional information on the applications of Dog Laser Treatment:boo

For More Information on dog laser therapy:
American Kennel Club Canine Health Foundation
Researched by: Jeff Grill

---