"If you observe the onset of sudden dog stomach pain, and see symptoms such as s painful, tense abdomen it could indicate a condition that is life threatening. The abdomen can be in pain, distended, inflamed, or there could be an insufficient supply of blood to the abdomen (called ischemia). Older dogs have a higher frequency of problems such as a malignant tumor (cancerous) while young dogs could have an injury, dietary problem, infection or intestine problems.
If you only see diarrhea with no changes in the abdomen, this is usually self limiting and will resolve on its own and is usually not life threatening. The exception is diarrhea that contains a significant amount of blood. If there is just a bit of blood, the problem could be colitis from stress and is not as serious as blood red diarrhea. If you see vomiting and diarrhea, or vomiting more than 2 to 3 times in a row, then consult with a veterinarian."
Video on Dog Stomach Problems
Causes
Gastric Dilation-Volvulus (Dog Bloat or GDV)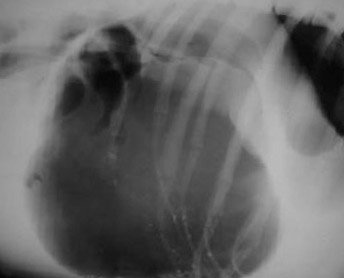 Processes that cause the build up of fluid or gas can cause dog stomach pain. These include:
Blockage in the Large or Small Intestine (called Ileus)
Dog Ieus X-Ray
Gaseous distention of a significant portion of the small intestine. However the distension is not considered sufficient to warrant a diagnosis of intestinal obstruction. One loop of bowel is more distended than the others and partial obstruction should be considered. There is a large amount of material in the stomach.
Photo Credit: Washington State University

Causes by Body System

Gastrointestinal System Causes of Dog Stomach Pain

Stomach Related:
Gastritis: inflammation in the stomach lining. Primary cause is infection
Ulcers: lesion in the stomach usually caused by inflammation
Perforation: abnormal opening
2Foreign bodies (something the dog swallowed)
Gastric dilatation-volvulus: called bloat where an obstruction causes fluid and gas to build up when it cannot leave the digestive system
Intestinal Problems
Obstructions caused by:Foreign bodies
Intussusception: condition where one segment of the intestine enfolds within anotherHernia
Enteritis: intestinal inflammation
Perforation
Infarction: death of blood vessel tissue
Pancreatic Problems:
Pain due to an inflamed pancreas, pancreatic abscess or insufficient blood supply
Mass or inflammation in the pancreas which blocks the biliary duct, causing jaundice
Liver distension
Gallbladder problems (obstruction, rupture or cell death), leads to bile leaking
Abscess
Spleen Problems:
Twist in the spleen
Mass in the spleen
Blood clot (thrombus)
Abscess
Urinary System Problems
Swelling (distension)
Obstruction in the lower urinary tract. Causes of obstructions or blockages include urinary stones (calculi), tumors and a tissue mass that developed in response to an infection
Rupture in the bladder or ureters
Urethral tear (can be the result of a pelvic fracture after injury)
Chemical peritonitis: urine buildup in the peritoneal cavity
Acute pyelonephritis: kidney inflammation due to infection
Kidney failure
Kidney stones, or stones in the ureter
Genital Tract Problems
Prostate gland inflammation
Prostate gland abscess
Accumulation of pus in the uterine cavity (pyometra)
Abscess
Rupture of the gravis uterus after injury (rare)

Diaphragm and Abdominal Wall
Umbilical hernia
Abdominal hernia
Injury
Congenital problems or defects
Body Systems Affected

Several systems of the body can be affected by the causes of dog stomach pain including:
Behavioral
Cardiovascular due to inflammation
Decreased blood supply (called ischemia)
Sepsis (bacteria in the blood supply)
Gastrointestinal problems such as:

Loss of appetite
Intestinal obstruction (called ileus)
Pancreatic Inflammation
Necrosis (cell death)
Abscesses (can contribute to pain in the abdomen)

Urinary and Kidneys such as azotemia, which refers to excess urea in the blood due to dehydration
Increased respiratory rate as the result of pain or other problems in the body
Risks By Breed

Two breeds are at higher risk for dog stomach pain.

Dalmatians: Males are at higher risk for a urethral obstruction. This is caused by higher incidences of urate urinary calculi (urinary stones).


German Shepherds: Dogs diagnosed with pancreatic atrophy have a heightened risk of a condition called mesenteric volvulus (twist in the fold that attaches the small intestine to the abdominal all). The twist causes an intestinal obstruction or blockage.
Medication Risk

Dogs on corticosteroids and other non-steroidal anti-inflammatories are at risk for gastrointestinal ulcers perforations.
Symptoms

Symptoms of dog stomach pain can vary including:
Reluctance to move
Trembling
Lack of appetite
Vomiting
Diarrhea
Vocalizing
Posture that isn't normal (a praying or tucked position)
Diagnosis

Given the many possible causes for a dog stomach pain, the veterinarian will seek to eliminate those that are most common. To do this a series of tests are conducted such as blood tests (CBC) and urine test (urinalysis).
Test results could indicate the underlying cause. For example a low number of white blood cells indicate inflammation and an infection. A gastrointestinal ulcer is detected by low red blood cell counts.
X-Rays can find any masses or abnormality in organ shape. It can also detect fluid accumulation. High gas levels could indicate an infection or a ruptured gastrointestinal tract. An Ultrasound test is used to find any abdominal masses, fluids, cysts, abscesses or urinary stones.
Testing abdominal fluid using a test called amniocentesis is used on dogs with sudden abdominal pain.
Foreign bodies can sometimes be found by palpitating the abdomen (touching the abdomen from outside the body).
If the cause cannot be determine with testing, a veterinarian may want to explore the abdomen surgically.
The veterinarian will check for any abdominal or dog stomach pain, changes in the muscles around the abdomen, gas and fluid accumulation in the abdomen. The patient will also be checked for:
Any masses that could be felt or palpitated
Rapid heart beat (tachycardia)
Rapid respiration (tachypnea)
Pain location
Rectal examination (check colon, urethra, prostate, stool color and blood color)
Treatment

A specific diagnosis of the underlying cause is needed before treatment can begin. Until the cause is determined, the Vet will address any symptoms such as pain relief (analgesics). Gas production can be reduce with histamine H2 antagonists.
The Vet will also determine if emergency intervention or surgery is needed.
For symptoms such as vomiting, nothing by mouth is recommended until the underlying cause is determined. If there is fluid loss, intravenous therapy is needed.
Have A Question For Our Vet About A Dog Stomach Problem?
Do you have a question for our veterinarian about a dog stomach problem? Share it and we will answer it for free!

Please include your dog's age, breed, medical history and if possible, a picture of the condition.

We will do our best to get back to you quickly (it depends on how many questions we receive each day). If you do require an immediate response we suggest using this online dog veterinary service that is available now.
Brochure for Download on Dog Stomach Aches:

For More Information:

Introduction to Digestive Diseases of Dogs
Merck
Researched by: Jeff Grill

---