Table of Contents
Summary:
"Treatments for dog diarrhea with pepto bismol and other human medicines should only be used under the advice of your Veterinarian."
Overview
Diarrhea can be extremely dangerous if your dog begins to suffer dehydration. We strongly recommend a call to your Veterinarian to discuss these non-prescription approaches to treating this disease.
If you see the following symptoms, act immediately: vomiting (2+ times in a day), lethargy/loss of energy, changes in behavior or acting sick, bowel movements every hour or 2, worms in diarrhea, bloody.
When treating diarrhea at first focus on providing a bland diet first. At the same time avoid dehydration by providing plenty of water. Alternatives to water that could help include diluted Gatorade and Pedialyte (dilute with water unless Veterinarian suggests full strength).
Over The Counter Medicine for Canine Diarrhea
Ask your Veterinarian about the following dosages (only try one of the following):
Kaopectate - Give dog 0.5-1.0 ml/pound every 4 hours or loperamide (0.2mg/ml Imodium, Equate WalMart) at 1ml per 4 pounds two or three times a day.
Immodium - For a dog up to 30 pounds, one regular strength Immodium every 12 hours. For over 30 pounds, a full tablet regular strength. 
Pepto-Bismol - Try no more than 1 tablespoon of Pepto-Bismol for dog diarrhea. Specifically .5 to 1.5 ml per pound orally every 12 hours.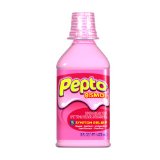 Pepto-bismol (bismuth subsalicylate): for dog diarrhea can be helpful for ending dog diarrhea.
Dosage is .5 to 1.5 ml per pound of body weight orally every 12 hours. Check with your veterinarian for the dosage required to help your dog.

Ask Our Vet A Question or Share Your Story

Have a Diarrhea Related Question For Our Editors or A Story to Tell About This Topic?
Do you have a dog diarrhea or other digestive system related question for our Editors or a helpful story to share? Please include information such as age, sex, breed, medical history, diet changes in behavior and medications.

We will do our best to get back to you quickly (depends on how many questions we receive each day). If you do require an immediate response we suggest using this online dog veterinary service that is available now.
Vet Responses to Reader Questions
Click below to see contributions from other visitors to this page...