How To Treat A Dog Vomiting Blood
Summary:

" Hematemesis, which is commonly referred to as a dog vomiting blood is either caused by something temporary such as the ingestion of an object your dog ate after being outside, causes such as dietary intolerance, or something systemically wrong such as with the digestive tract (GI), liver or kidneys. It can also indicate bleeding that originated in the mouth or respiratory system. Blood can appear as flecks, a blood clot, or digested blood, which has the appearance of coffee grounds. In rare cases blood in vomit can indicate a life threatening condition, so be sure to consult a veterinarian. Keep track of and describe the severity, frequency and progression of the problem.Treatment involves ensuring that your dog is not dehydrated and then removing the underlying cause."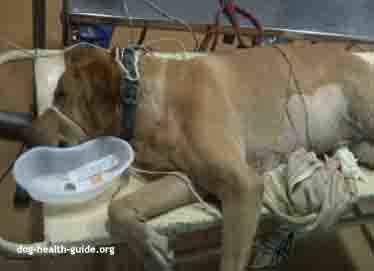 Labrador Retriever patient that vomited blood after ingesting rodent poison
(1)
Overview

A dog vomiting blood (called hematemesis) can be due to something temporary or something systemic (a problem with your dog's gastrointestinal system). Problems range from a few drops of bright red blood in his vomit, or the vomit may appear very dark and resemble coffee grounds caused by digested blood.
A few drops of bright red blood is more likely to mean gum disease or a cut in the mouth, while vomit that looks like coffee grounds is more likely to mean an ulcer or bleeding in the stomach.
When observing your dog vomit write down the answers to as many of these questions as possible in order to help your veterinarians reach a diagnosis:
How long has your dog been vomiting? (record it on your phone's video camera if you have one)

Medical History
Diet
Where your dog has been (eg; outside)
History of coughing and sneezing
Does it only happen after your dog eats?
Odor
Frequency of vomiting
Causes
The most common causes of vomiting are listed below. These will be ruled out before a veterinarian looks for other causes.
Gastrointestinal Problems
Swallowing a foreign object such as a dog bone with sharp edges or garbage
Drugs (eg; NSAIDS)

Radiation
Dietary Problem (food intolerance)
Parasites
If vomiting is more severe or chronic, and the above list is ruled out, then your veterinarian will consider the following conditions:
Intestinal problems (called a Motility disorder)
Difficulty defecating (Gastric hypomotility)
inflammatory

bowel disease

(IBD)
Chronic gastritis
Tumor (neoplasia)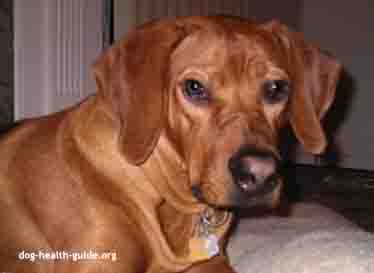 Patient Diagnosed with Pancreatitis. Vomited Blood Coffee Grounds Looked Like Small Coffee Grounds
(2)
Blood Coagulation Disorders:
Thrombocytopenia (drop in the amount of blood cells involved in forming blood clots)
Thrombocytopathia—von Willebrand disease
NSAIDs, drugs, glucocorticoids
Uremia (sign of kidney failure)
Hyperviscosity syndrome (increased viscosity of the blood)
Disseminated intravascular coagulopathy (when blood has trouble clotting)
Anticoagulant rodenticide toxicity (poisoning from rodent pesticide)
Coagulation factor deficiency
Polycythemia (an increase in the total cell mass of the blood)
Gastrointestinal diseases:
Gastric retention disorders (delayed emptying of gas)
Gastric neoplasia (tumor)
inflammatory

bowel disease (IBD)

Lymphoma

(cancer of the lymph glands)
Esophageal tumor (neoplasia)
Colonic volvulus (colon contractions)
Hemorrhagic Gastroenteritis (called HGE, symptoms include blood in diarrhea)
If the vomiting is accompanied by diarrhea then your dog could be suffering from:
Intestinal neoplasia (tumor)
Small intestinal obstruction
Peritonitis (inflammation of the tissue in the abdomen wall)
Infectious diseases can also be a cause of the gastrointestinal distress:
Canine hepatitis
Rickettsial infections (type of bacteria)
Bacterial Skin Rash with flu symptoms (Leptospirosis)
Vomiting due to abdominal disease:
Disease in the uterus (Urogenital disease)
Problem with a lining of the abdomen (Peritoneum)
Motion sickness or stimulation of the vomiting reflex

Neurological Diseases:


Head injury
Spinal cord injury or disease

Respiratory Diseases:


Nasal diseases (tumor, fungal infection, foreign body in the nose)
Airway disease (fungal infection, heartworm)
Stress or Major Illness:

Burns
Severe illness
Heat stroke
Trauma
Hypotension (low blood pressure)
Major surgery
Septic (severe infection) or Hypovolemic shock (decreased blood volume)
Other causes:

Toxins or Poisons (metal, plant, chemical)
Snake bites
Aflatoxins (natural toxins produced by a fungus)

Stimulation of the glands near the vagina (Vestibulitis)
Endocrine disease (hormone problem)
Hypoadrenocorticism (adrenal gland hormone problem)
Ketoacidotic diabetes mellitus (diabetes)