Puppy Distemper
"Puppy Distemper is caused by canine distemper virus (CDV). The disease is preventable with early vaccination. Symptoms are the result of the virus attacking the gastrointestinal tract, central nervous system and respiratory system of the dog. Puppies are susceptible to the infection prior to vaccination, particularly those that are exposed to strong strains of the virus and who have a weakened immune system. Treatment options are limited to helping your dog cope with the symptoms of this dangerous canine disease. The disease causes death in 80% of affected puppies."
Distemper in puppies (CDV) is caused by a paramyxovirus, a virus that is very similar to the virus that causes measles in humans. Dogs of all ages can be infected by distemper, but puppies six months old and younger are most likely to have the disease.
The virus is breathed in through the nose, with clinical canine distemper symptoms appearing 10 to 14 days after being infected. The infection starts by infecting the neck lymph nodes and then spreads throughout the body in the blood over the next 5 days. Symptoms begin to appear in the gastrointestinal system and the respiratory system.
You should protect your puppy from distemper by having him vaccinated when he is about six weeks old. Older dogs should be vaccinated every year.
Symptoms for Distemper in Puppies
There are many puppy distemper symptoms, ranging from mild to severe. Symptoms include:
* Thickened foot pads
* Thickened pad on the nose
* Reddened eyes
* Discharge from the eyes
* Blindness may occur in severe cases
* Cough
* Runny nose
* Fever
* Vomiting and diarrhea
* Loss of appetite
* Weight loss
* Loss of energy
* Muscle tremors
* Seizures
* Paralysis
In mild cases, symptoms may not easily be recognized as distemper. Early signs of distemper can resemble other diseases, such as parvo disease.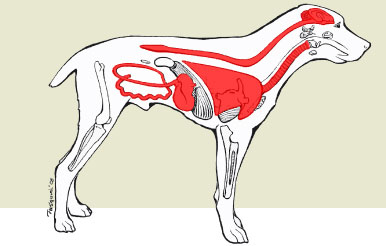 Puppy distemper systems infects the gastrointestinal tract, respiratory system and central nervous system of the dog
Source: Cornell University College of Veterinary Medicine
Distemper in Puppies Diagnosis
Diagnosing puppy distemper can be a bit tricky. It is usually done with a blood test. There are a couple different blood tests that can be used to diagnose puppy distemper.
The first test looks for antibodies that have developed in response to the disease. If your puppy has already been vaccinated for distemper, though, these antibodies will be present regardless of whether your puppy has distemper or not.
The second type of blood test looks for distemper by mixing florescent antibodies with the blood to see if they attach to distemper virus. If they do, the blood will glow. This test can give negative results even if your puppy does have distemper, though, because sometimes the virus "hides" in the cells and is not present in the blood itself.
Another test for distemper involves looking for the virus in the fluid that surrounds the brain and spinal cord (cerebral spinal fluid). This is an expensive test and can be dangerous to perform. Your vet may not recommend it.
If tests do not show that your puppy has distemper but he has all the symptoms and other illnesses are ruled out, your vet may diagnose distemper regardless of what the tests say.
Puppy Distemper Treatment
There is no cure for distemper in puppies. About 75% of all dogs who get distemper die from it. Some do recover, but they may have lasting problems, such as blindness, paralysis, and seizure disorders.
Treatment involves managing the symptoms. Secondary bacterial infections are treated with antibiotics. If your puppy is vomiting or has diarrhea and becomes dehydrated, IV fluids may be needed. If your puppy has seizures, anti-convulsive medication will be prescribed.
Be sure to keep your puppy in a warm draft free room. Wipe any discharge from the nose and eyes. Distemper medications such as glucorticoids are used with dogs that have vision problems.
Other symptoms can be treated, but there is no medication to treat the distemper itself.
Even puppies that recover may suffer from longer term effects of the disease, such as tooth decay (enamel hypoplasia) and hardening of the foot pads and nose (canine hyperkeratosis).
Puppy Distemper Prevention
Minimizing a puppies exposure to other dogs and the outdoors helps to prevent distemper prior to vaccination. The CDV or distemper vaccine is considered mandatory. The canine distemper vaccine is given in combination with canine parvovirus and coronavirus vaccines. Vaccines are given starting at age 6 weeks, and repeated every 3 to 4 weeks until age 16 weeks.
The dogs environment should also be cleaned with bleach (1 part bleach to 30 parts water). For more information, download this canine distemper brochure (PDF) from the AVMA.
References
Distemper
Foster, Race DVM, and Smith, Marty DVM
Canine Distemper: Current Status
Appel, M. and Summers, B.
Have a Canine Distemper Related Question For Our Editors or A Story to Tell About This Topic?
Do you have a dog distemper related question for our editors or a helpful story to share? Please include information such as age, sex, breed, medical history, symptoms, diet, changes in behavior and medications.

We will do our best to get back to you quickly (depends on how many questions we receive each day). If you do require an immediate response we suggest using this online dog veterinary service that is available now.
What Other Visitors Have Said and Vet Suggestions
Click below to see contributions from other visitors to this page...

Dog Hyperkeratoisis and Distemper Not rated yet
We rescued several puppies from our local animal shelter so far. 4 out of 7 have died. All had parvo and we think 2-3 of them also had distemper. Right …