Summary:
One common question from new dog parents is how to stop puppy mouthing, nipping and biting. Puppies, being like a human newborn, explore with their mouth and will engage in play biting along with nipping the pet parent's ankles, arms and hands. The problem is when the sharp puppy teeth break the skin when interacting with everyone that wants to touch the new pup. This form of "play aggression" is often a bit over the top without any inhibition. If the behavior is not corrected when young it can turn into something more dangerous as the dog gets larger.
Teaching methods using games are a great way to reinforce bite inhibition.  The use of positive (treats) and negative (stopping game time, moving away) are both ways to eliminate puppy biting and nipping behavior. In general, to prevent puppy mouthing do not encourage a puppy to play with arms and hands and be sure to never hit your pup when training.
Normal Puppy Play Biting and Mouthing
It is normal for puppies to engage in playful nipping and mouthing behaviors. The behavior begins some time between age 2 and 4 weeks, and continues through age 4 and 14 weeks. During this time puppies learn what is appropriate biting etiquette from litter mates. When a litter mate bites too hard, the recipient of the bite yelps, signaling to the biting puppy that it was too hard. Puppies frequently correct each other's behavior during play. For this reason, it is important that puppies aren't removed from the litter too early.
If a puppy is removed too early, then it is up to the dog parent (you) to provide the necessary training. Not every technique is for every puppy so you will have to match temperament to training. Always provide praise once the biting or mouthing has stopped.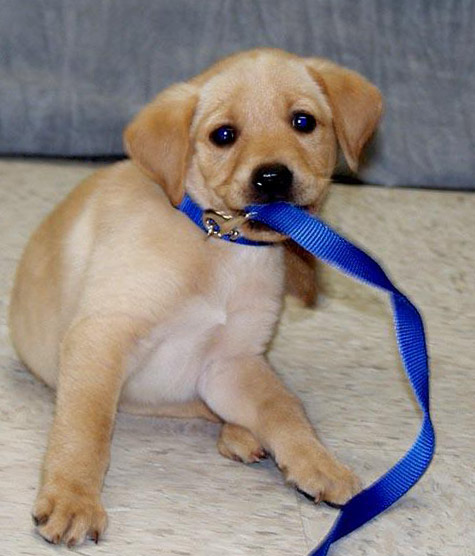 Puppies that are Prematurely Separated From Litter mates Do Not Learn How to Avoid Bites that Injure the Skin
Photo Credit: Washington University