Blueprints for whelping boxes are fairly standard with most designs based on a 4 - 5 ft. base, with  walls 12 inches high or more (higher to 2-1/2 feet if you plan to use the box until the pups start climbing - happens at 6 to 7 weeks old).  Railings on the inside of the box are added to protect the pups from a restless mom. To protect the box, a  bottom surface is added that is absorbent and washable.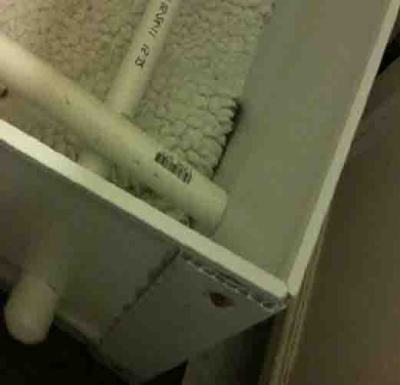 "Portable" Whelping Box Plan uses PVC pipe to create protected areas for the pups to rest without being crushed by the mom. High walls will allow mom to exit and enter the box, while keeping pups in place. If you using carpet (as shown), use an old piece that has had harmful chemicals washed off.
Consider using removable sides to facilitate cleaning and storing the box after use. You can do this by creating grooves out of molding for the side panels and then use eye hooks to hold each panel in place. Make a shelf around the top of the box with wood pieces that are approximately 3 inches to 6 inches. The pups will crawl under these shelves and they will prevent the mother from crushing any of the pups when she moves or rolls over. As an alternative you can use 1/2 inch dowels that will act as rails.
Whelping Box Plan #1
Materials:

4' x 8' sheet of 5/8" thick particle Board or Plywood Cut as Shown
2 pieces of 5/8" thick particle Board or Plywood 22" x 40 3/4"
2 pieces of hardwood dowel 36" long x 1 3/8"diameter or 1 1/2" diameter
2 pieces of hardwood dowel 48" long x 1 3/8"diameter or 1 1/2" diameter
3/4" x 2" Pine strip, 2 pieces 48" long, 2 pieces 32" long
24 wood screws, 1 1/4" long - #8 or #10 - flat head
16 wood screws, 1 3/4" long - #10 or #12 - flat head
3/4" quarter round molding x 15' long, 2 pieces approximately 4', 2 pieces approximately 3' long
1" finishing nails

2" x 2" x 8' pine
Urethane vinyl - 3 coats for all exposed wood

To help the female/mother into and out of the whelping box, you will also need a bench.  Lighting is optional.
Whelping Box Blueprint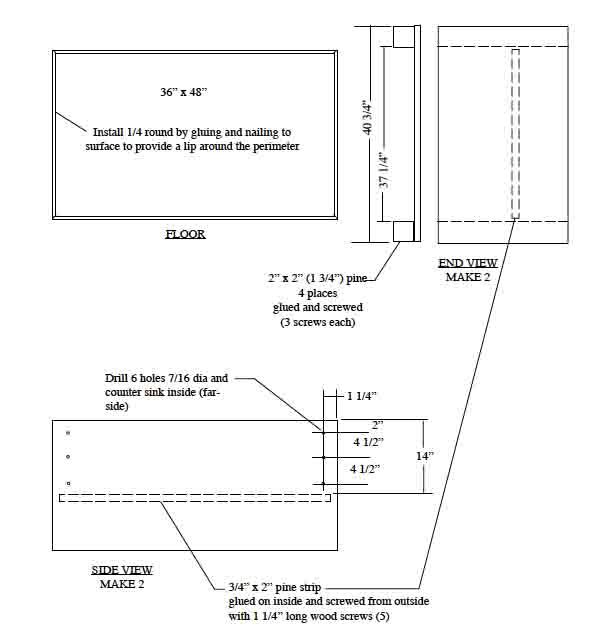 Whelping Box Top View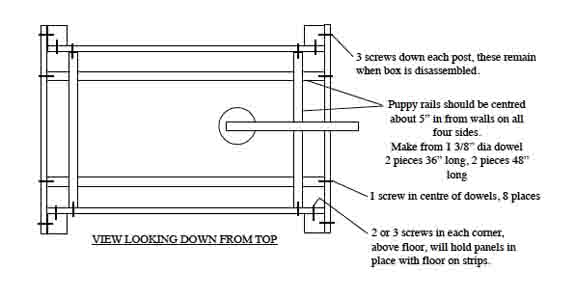 Whelping Box View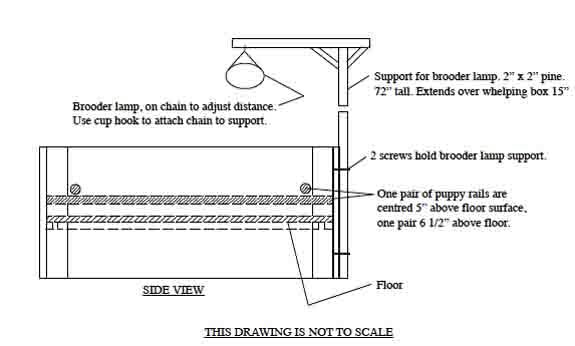 Bottom of Whelping Box
The bottom of the box should have a layer of newspaper followed by a washable material such as a towel. Do not use anything that can be too deep for a pup such as a blanket or wood type chips. You can also buy a commercial whelping box pad. Pads have a downside if the pup crawls under the pad and the mom gets on top and inadvertently crushes the puppy.  Newspaper at about 5" deep makes a good bottom covering. 

Do not use new carpet. Puppy/dog urine and carpet fibers combine to create an acidic reaction against the skin.  Older carpet such as a bath mat that has been repeatedly washing works.
Plan #2
You can also try whelping box blueprint (plan #2 below) offered by Rich Goiffon or this set of blueprints, drawings and materials from Robert Forbus.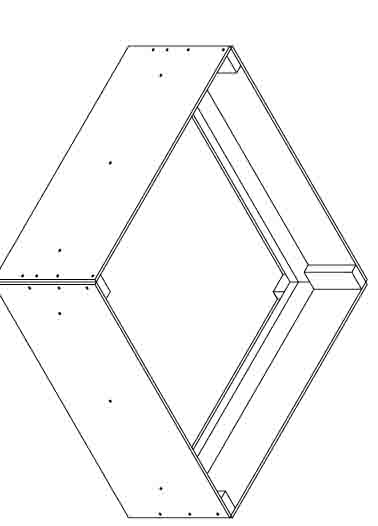 Whelping Box Plan From Robert Forbus
Whelping Box Plan #3
Download detailed plans for Whelping Box #3 below. The box uses a plastic base and walls, with all materials available at Lowe and WalMart.
Box Temperature
Supply heat such as a heat lamp that will keep the area 85 degrees with the first week, then bring the temperature down each week until 72 degrees in week 6. Make sure the mom and pups cannot reach the lamp.

Whelping Boxes for Sale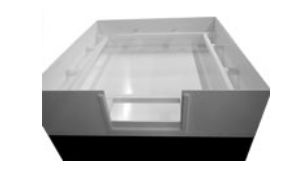 Instead of using whelping box plans, you can purchase a whelping box for small dogs (shown above) or a disposable whelping box (shown below)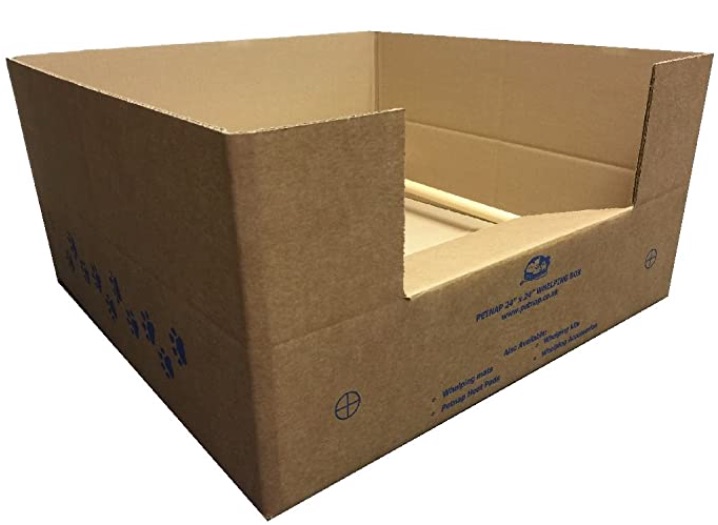 Disposable Whelping Box.
Shown: Amazon
Reference:
Whelping box plans from Bill Hamilton
Soft Coated Wheaten Terrier Club of America
---