There are many chemicals, household items, plants and foods that are poisonous for dogs. If you know what your dog ate, then check the label for toxicity. Call a poison control center if with the label in hand to determine the effect on your dog (ASPCA can be reached at (888) 426-4435. Get emergency care for your dog ASAP at an emergency veterinary facility. For a recent poisoning, a Veterinarian will insert a stomach tube and attempt to remove as much of the toxin as possible. A Vet may recommend that you induce vomiting in the home, particularly if the poisoning just happened in order to get the substance to come right up.
Each Food, Medication or Parasite that Is Poisonous for Dogs Has a Specific Treatment Approach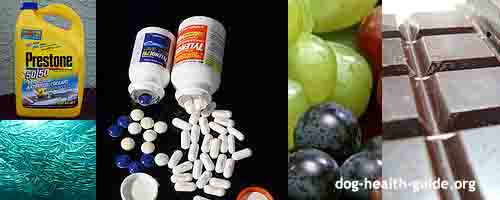 DO NOT induce vomiting if:
product label says not to induce vomiting
your dog has vomited already
dog exhibits breathing difficulties
neurological problems (lack of focus, trouble walking
if the dog is unconscious
if something that contains acid was swallowed (cleaners, gasoline, petroleum products)
To support a dog during recovery from poisoning, a natural product like DetoxPlus can provide added support.
Ask A Question For Free

If you have a dog poisoning question that does not need to be answered immediately, ask it here and our Veterinarian will get back to you as soon as possible. We do not provide emergency responses. Call your Vet if you need urgent help.
Have A Dog Poison Related Question For Our Vet? We'll Answer It For Free.
Do you have a Dog Poison related question for our Vet or a Helpful Story to Share? Please include information such as age, sex, breed, medical history (past diagnosis), medications your dog is taking, recent changes in behavior (lethargy, appetite), etc. Pictures are also helpful in identifying problems such as fluid accumulation in the abdomen.

We will do our best to get back to you quickly (depends on how many questions we receive each day). If you do require an immediate response (not for emergencies) we suggest using this online dog veterinary service that is available now.

For a medical emergency contact a veterinarian or the ASPCA Poison Control Hotline in at (888) 426-4435 (U.S.)
Dog Poison Control Hotlines:

These poison control hotlines may charge a small fee for a consultation.

ASPCA - (888) 426-4435
Angell Animal Poison Control (877) 226-4355
North Shore Animal League (888) 232-8870
---