How to Cure Dog Dry Skin, Seborrhea or Dandruff
Summary:
To cure dry skin (also referred to as dry seborrhea or dog dandruff.) that consists of symptoms such as mild itch and skin flaking, and if your dog appears comfortable, home treatment is appropriate. Here the problem tends to be more cosmetic than the sign of an underlying health issue. Follow the three steps described below which includes the use of an oatmeal based shampoo for itch relief or coal tar based shampoo and conditioner to dissolve skin crusts, a switch to a high quality diet (if necessary), and the use of supplements associated with improving canine skin condition such as zinc, fish oil (Omega-3) and homeopathics. The itchiness and flakiness is also referred to as dry seborrhea or dog dandruff.
If the condition worsens after trying home treatment, or is accompanied by other symptoms such as hair loss, skin papules or changes in your dog's behavior, then a trip to the veterinarian is required.
Possible causes of more advanced cases of dry skin on dogs includes parasites such as mites (mange), fleas, infections such as ringworm or dog skin allergy. Dietary change to low-fat diets can also cause skin and coat flaking. Prescription medications are needed for cases where there is skin inflammation or dog skin infection. Future problems can be prevented by following the simple steps described below and by bathing your dog less frequently.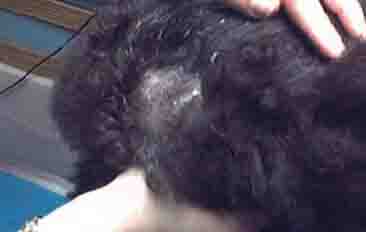 Case of Self Perpetuated Seborrhea Due to Biting and Scratching (called psychogenic pruritus)