Summary:
Blood in a dog stool can have multiple causes and is never normal. The most common reasons for a bloody stool are parasites or an intestinal tract problem.  A bloody stool can also be a sign of minor issues such as constipation (when the blood is red and the stool is dry and hard) to chronic conditions such as a bleeding tumor. 
Puppies, in particular, can have a bloody stool when suffering from parasites (worms) and gastrointestinal infections. Related conditions include anemia, sepsis, and dehydration. In puppies, bright red blood is almost always the result of parvovirus enteritis or intestinal parasites.  
The color of the blood is the first indicator of the cause. 
Bright red blood (hematochezia) indicates that bleeding is from the color or lower digestive tract. Common causes include toxins, injury or trauma, bacterial or viral infections, hemorrhagic gastroenteritis, colon inflammation, inflammatory bowel disease (IBD), parvovirus, anal sac infection, or cancer (seen in older dogs).
Tarry, dark stools (melena) also have about a dozen potential causes. Darker blood indicates that the blood has been swallowed or digested, a symptom related to a problem in the upper digestive tract. Causes include foreign objects, ulcers, tumors, toxins, pancreatitis, and Addison's disease.
Stool color is when compared to normal since the "healthy" color for each dog can vary based on diet.
Treatment involves identifying the underlying cause and using a specific approach such as de-worming for parasites or dietary change to correct any food intolerance or allergy. A small red streak of blood along accompanied by a hard stool is probably due to constipation and is not of immediate concern. If you see a good amount of blood,  visit your vet immediately for a rectal exam to check for anal and rectal tumors or an anal gland abscess. 
When To Contact Your Veterinarian Immediately:
If you see along with blood in the stool:
A large amount of blood 
If the blood is digested (black and tarry)
Breathing difficulty
Lower activity levels
Attitude change
Appetite loss
A veterinarian needs to check for dehydration, coagulapathy, and anemia immediately when a dog pooping blood is suffering from these symptoms. Do not wait until the next morning.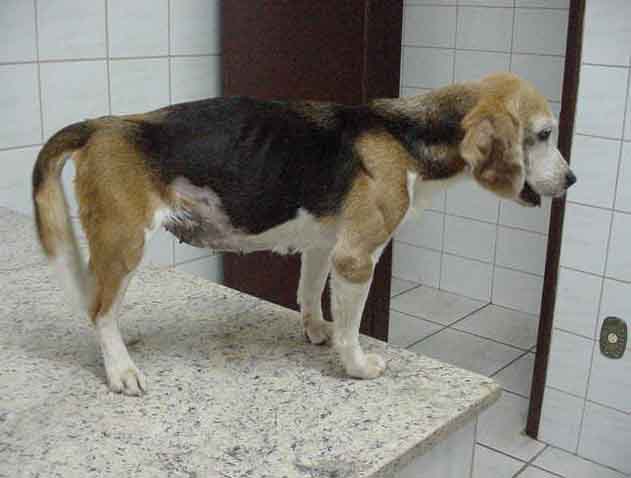 Blood in the stool of this beagle is due to an intestinal obstruction. Symptoms included anorexia, abdominal distension, weight loss and constipation.
Source: Washington State University, Gustavo Luiz G. Almeida, DVM, MSc, MD